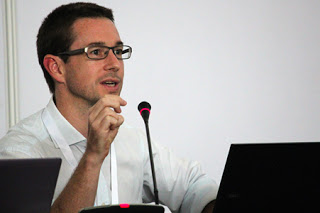 Harry Jonas (Natural Justice) 
launching the study on legal
and 
institutional aspects of 
ICCAs. Photo via IISD-RS
.
Natural Justice was recently in India for the 11th Conference of the Parties (COP11) to the Convention on Biological Diversity (CBD), which took place from 8-19 October in Hyderabad. With a range of civil society, network, government, and intergovernmental partners, we co-organised, presented at and/or attended the following key meetings and events:
6-7 October: CBD Alliance preparatory meeting;
8 October: side event on the legal weight and implementation of the CBD;
9 October: workshop on Indigenous peoples' and local community conserved territories and areas (ICCAs) in South Asia, organised by Kalpavriksh and others;
9 October: side event to launch the joint study on Legal and Institutional Aspects of Recognising and Supporting Conservation by Indigenous Peoples and Local Communities (full list of reports available here);

9 October: informal meeting with India-based partners in the Asia Regional Initiative on Biocultural Community Protocols, with particular emphasis on Livestock Keepers' Rights in the context of the 2006 Forest Rights Act;

10 October: side event on the Joint Programme of Work on Biological and Cultural Diversity between the CBD and UNESCO;
11 October: side event on social and cultural dimensions of marine and coastal protected areas, organised by the International Collective in Support of Fishworkers;
11 October: workshop on national federations and coalitions of Indigenous peoples and local communities, organised by the ICCA Consortium and others;
11 October: side event on biocultural community protocols and free, prior and informed consent, drawing from the recent special issue of the Participatory Learning and Action journal, which Natural Justice co-edited;
12 October: side event to launch the CBD Technical Series on Recognising and Supporting ICCAs, which Natural Justice co-edited;
12 October: side event on experiences and opportunities for civil society partnerships with access and benefit sharing through the Global Environment Facility Small Grants Programme;
12 October: side event on the new online platform to support revision and implementation of National Biodiversity Strategies and Action Plans (NBSAPs)
13 October: colloquium on ICCAs and the Aichi Biodiversity Targets, organised by the CBD Secretariat;
15 October: side event on UNDP support for ICCAs;
16 October: Rio Pavilion event on Reducing Emissions from Deforestation and Forest Degradation (REDD+);
16 October: side event on the International Finance Corporation's Performance Standards on Environmental and Social Sustainability;
16 October: press conference on Namibia's Community-Based Natural Resource Management Programme;
18 October: high-level panel on implementation of the Nagoya Protocol on Access and Benefit Sharing;
18 October: side event on strengthening governance, participation, equity, and benefit-sharing aspects of NBSAPs with Indigenous peoples and local communities; and
19 October: side event on the Biodiversity in Good Company Initiative.
We also attended a series of meetings throughout COP11 to progress plans for the Community Conservation Resilience Assessment in collaboration with the Global Forest Coalition and others, and for the project on legal preparedness to achieve the Aichi Targets in collaboration with the International Development Law Organisation and the Centre for International Sustainable Development Law.
Daily coverage of select side events is available online courtesy of the International Institute for Sustainable Development Reporting Services (IISD-RS).