The year is 2002 and our communal land in the Southern Kalahari, South Africa has been placed under Government Administration. We are an indigenous community trying to find our feet at a time when we are supposed to enjoy the benefits of our successful land claim.
With a heavy heart and teary eye, I stood in the Rietfontein community hall to bid farewell to an extraordinary woman. A woman who gave life to our nearly extinct N/uu language. She played a vital role in helping to locate more N/uu speakers in 1997 and played an important role in the successful land claim. This woman is my grandmother, "Ouma Elsie Vaalbooi" or "Ouma Elsie" for short. At the time of her passing it was believed that she was in her nineties, but a photo discovered at Iziko Museum proved that she was, in fact, a hundred and seven years at the time of her passing.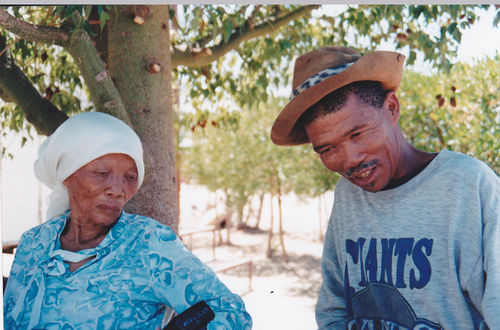 However, to a large degree I feel robbed of my heritage and my mother tongue. During the apartheid years, my grandmother was not allowed to speak her language, so my father and his two siblings could never learn to speak our language and we, in turn, could not learn it either. Colonialization and the apartheid regime stripped us of our dignity, language, culture and traditions. Over the years, we have seen many researchers try to explain the pain and suffering that my ancestors had to endure during colonialization and the Apartheid years. However, none of them can really relate to what it is that our people felt, and what we, as the current generation, still feel. Therefore, so many of these recorded stories never reflected our ancestor's and the communities' true feelings. There is deep-rooted intergenerational trauma that we still encounter up until this day. It has become part of who we are, but we are tired of carrying that on our shoulders. It is time to rebuild what was broken, it is time to heal the wounds of the injustices of the past and present, it is time that we find our roots and reconnect with our land.
Today, we find ourselves in a time where there are lots of environmental changes all over the globe, some of which are potentially very catastrophic. The Southern Kalahari itself is becoming more and more affected by issues such as climate change. Our weather patterns are changing rapidly, our rain stays away longer, animals are suffering due to droughts. As one of the oldest indigenous groups on this planet, our lifestyle has always harmonized with nature. There was, and still is, a key understanding between my people and the land we occupy; we always had a sustainable and environmentally sensitive way of interacting with the land. It is these first principles we have to re-instill into our people if we wish to find workable solutions to our environmental challenges.
Since the return of the small part of our ancestral land, we are still faced with immense challenges, post-settlement. Contributing factors to these challenges are a lack of resources, systems and administrative processes which don't work for us, consequential internal conflicts created, as well as the divisiveness due to outside researchers and consultants who can't relate to our issues. We don't want people from the outside to bring us their solutions; we want to find our own solutions through facilitative and participative processes.
Twenty years down the line and we are still struggling with issues like clean drinking water, housing, and proper sanitation. One of the biggest mistakes made soon after the land claim was the investment in the restoration of the assets instead of healing the wounds of our people and the restoration of their dignity. If only we had healed the people, they would have, in turn, healed the land. Soon after the failure of the Communal Property Association system imposed on us, the blame was easily put on us by researchers, Government institutions and all other interested parties. A people, with their own governing system, was ignored and a foreign system was imposed on them. Today we are hoping to find ways that we can revive our ancient systems that worked for us and marry it with the new methodologies, but, overall, ensure that it is compliant with our customary practices.
As we embark on a new journey today, we see our Traditional leader of the /'Aoni N//ng, Mr. P. Vaalbooi playing a key role in the current conversation between the University of Cape Town, Iziko Museum, Traditional leaders and other stakeholders in the repatriation of human remains and the burial of our ancestors' remains. "We need to lay our people to rest, and need to erect a monument where we can continue to honour them," was the response from Mr. P. Vaalbooi when asked what the path was going forward.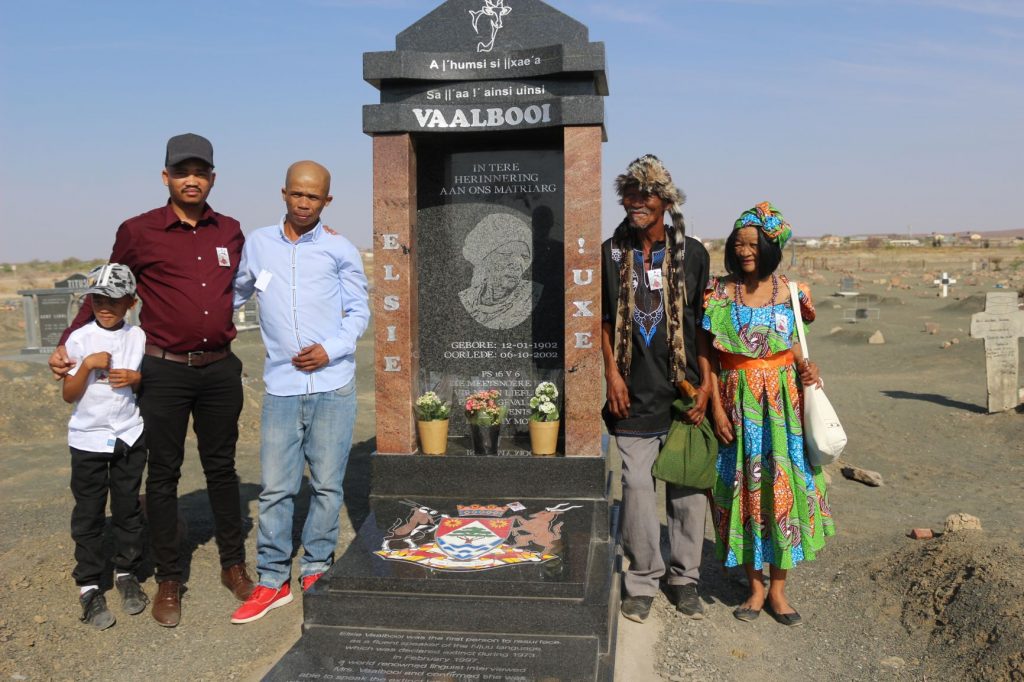 Today, after more than seventeen years of the passing of my grandmother "Elsie Vaalbooi", she can finally be at peace. This marks a historic day for us as the /'Aoni Saa of the Southern Kalahari.  As part of our restorative journey, we not only gave "Ouma Elsie" the respect she deserved, but also in her honor, we have gathered all our /'Aoni elders and established the /'Aoni N//ng (Traditional house). Moving forward our main objective will be to restore our people's dignity and to heal our land. We will do this with the guidance of our elders and with the blessings of our ancestors.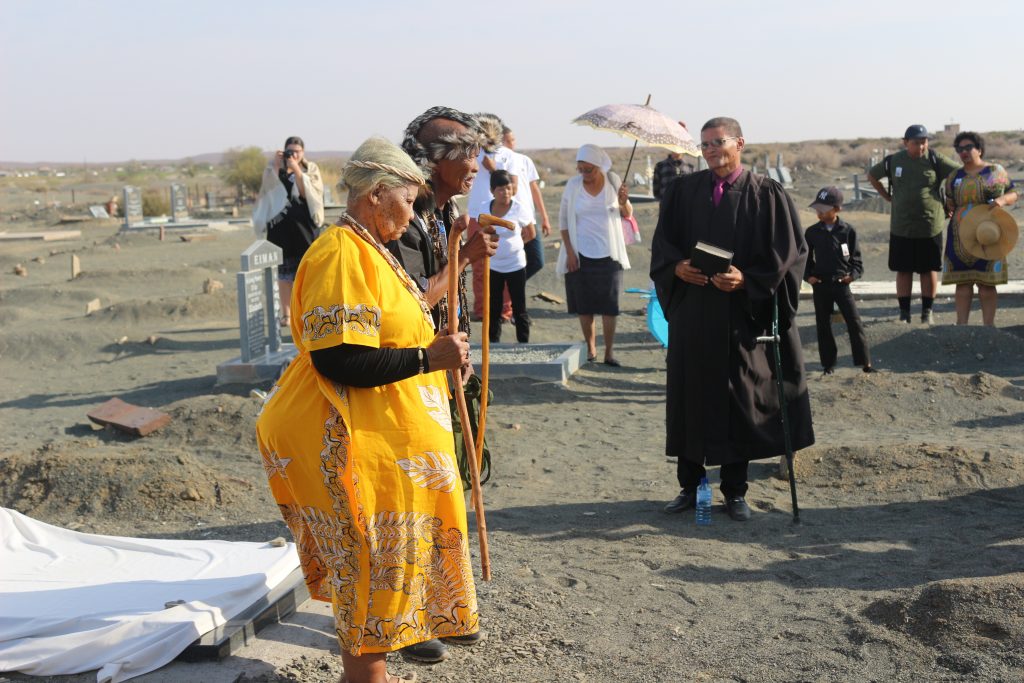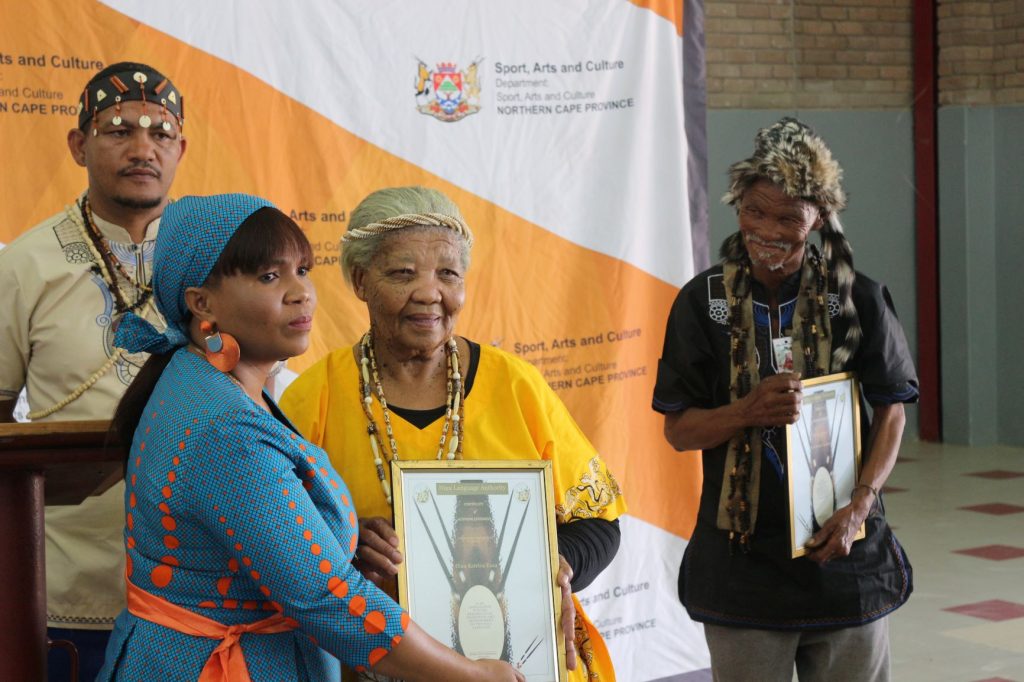 In the majestic Tankwa Karoo National Park (TKNP) outside Calvinia, the skeleton remains of a San woman, now known as 'Madawas' – meaning mother was there, has been laid to rest following her discovery in 2007. On 19 October 2019, 'Madawas' was reburied near the Perdekloof campsite in TKNP, not far from the Perdekloof gorge where she was found.