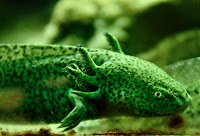 Salamander in the
reptile house at London Zoo
(Courtesy of Harry Jonas)
Harry Jonas (Natural Justice) attended a workshop in London (26-27 March) entitled: "Conservation and Land Grabbing: Part of the Problem or Part of the Solution?" The meeting was hosted by IIED, the International Land Coalition, Maliasili Initiatives and the Zoological Society of London and was held at the London Zoo. Harry Jonas presented on the ICCA Legal Review and the Living Convention on Biocultural Diversity. Other presenters included: Lorenzo Cotula (IIED), Fiona Flintan (ILC), Guy Counga (CISDL), and Dorothy Nyingi (National Museums of Kenya). The workshop concluded with a number of tentative conclusions and ways forwards. Harry thanks the organizers for the opportunity to present and looks forward to contributing to the Poverty and Conservation Learning Group.