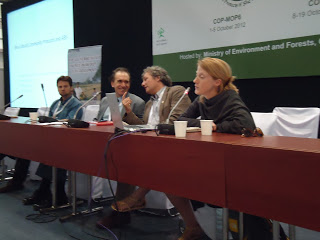 In light of the Nagoya Protocol on Access and Benefit Sharing (ABS), emerging national ABS frameworks and increasing overall awareness of ABS, a new set of opportunities for communities to benefit from their role as custodians of genetic resources and holders of traditional knowledge (TK) is emerging. To prepare for and respond to these new opportunities and challenges a new partnership was recently established between the ABS Capacity Development Initiative, a multi-donor initiative implemented by GIZ, the GEF Small Grants Programme (SGP), implemented by UNDP, and Natural Justice. Each partner will contribute its unique expertise and networks.
This newly established collaboration, which will focus on the design and implementation of a new generation of national and local-level ABS partnerships, was presented at a side-event to the 11th Conference of Parties (COP 11) to the Convention on Biological Diversity (CBD) on 12 October, 2012. After a short introduction of the respective work of the ABS Initiative, GEF SGP and Natural Justice, a number of SGP grantees presented on past and present projects that fall under the broader umbrella of ABS or biotrade during the side event. These included the work of Pacari (Brazil), the Muliru Farmers Conservation Group (Kenya), Fundación para la Promoción del Conocimiento Indígena (Panama) and Sambandh (India). The national coordinators of SGP Sri Lanka and Bhutan highlighted the role SGP could play in engaging in ABS-related projects at the national level. Finally, Cameroon's national focal point for ABS discussed the case of Prunus Africana and the related potential value chain leading up to the pharmaceutical market in Europe.
For further information on this new partnership, please contact Johanna(at)naturaljustice.org.