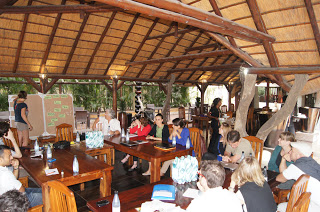 From 4-5 March 2013, the
ABS Capacity Development Initiative
held a team meeting in Phalaborwa, South Africa following the 7th Pan-African ABS Workshop attended by Lassana Kone and Gino Cocchiaro of
Natural Justice
. The objectives of the meeting were to identify new thematic areas and to provide support to specific countries in the development and implementation of ABS regulations. The team agreed to support the establishment of the argan value chain in Morocco. Ratification, overall ABS strategy, regulatory framework, institutional arrangements, value chain development, dealing with Traditional Knowledge (TK), transboundary issues and stakeholder involvement were among the themes discussed. In terms of the existing tools, the team agreed to raise awareness for national researchers, but also to develop new standardised tools. Tools like biocultural community protocols (BCPs) will be use for the Training of Trainers at the local level and provide legal and commercial advice on Mutually Agreed Terms (MAT) and Prior Informed Consent (PIC).
With regard to BCPs, a thematic group discussed the way forward and stressed the need to target BCPs in the context of ABS and integrate the work on value chains and biotrade with BCPs, with a specific emphasis on dialogue and business potential for genetic resources. The group further discussed the value of BCPs in cases where many communities share a resource, like the Shea in Ghana or Argan in Morocco. In this case it is not possible to involve only one community but a whole range of community. The Multi-Stakeholder Process (MSP) could be a tool to bring every community under the same umbrella. The group agreed that the next generation of BCPs should strengthen the notion of co-users of resources and use MSPs to secure the use of resources, facilitate and introduce community involvement in regulation, outline how can focal points support BCPs or similar procedures, and support legislation/regulation development.
Regarding the draft AU guidelines on ABS, Natural Justice agreed to produce an annex to the Guidelines on good principles for community involvement.