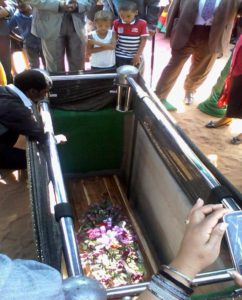 Reflections of Indigenous Fellow, Ivan Vaalbooi
As the sun warmed up in the dusty Kalahari, we prepare to lay to rest one of the most outspoken leaders in the Kalahari, Andries Steenkamp. As the pastor had mentioned the previous night, Andries was a strong person who always said what he wanted and never doubted his stand in a matter.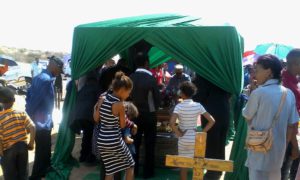 In the church service it was mentioned once again that a huge tree has fallen. The funeral service for the fallen leader drew leadership figures from the !Xun and Khwe communities and was attended by many family members from throughout the Northern Cape. On behalf of Natural Justice I had the privilege to bid farewell to this remarkable leader. Andries  played a huge role in various Intellectual Property Rights (IPR) cases, including  Hoodia, Scelletium as well as Rooibos. His presence will indeed be missed for his contributions in meetings, conferences and workshops. We all have to agree that Andries made a huge contribution to the Khomani San community in the Kalahari and for many indigenous peoples in South Africa. May his soul rest in peace and his legacy live forever with us.