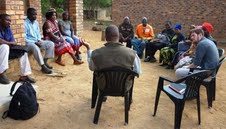 Gino Cocchiaro and Cath Traynor of Natural Justice, and partners Kruger to Canyons Management Committee and Kukula Traditional Health Practitioners Association (KTHPA) attended the Protocols for Sustainable Harvesting in Protected Areas Workshop hosted by Wits University Rural Facility on 13th July 2013. The workshop was the first of a series to start a conversation to achieve a common understanding concerning the possibility for traditional healers to access protected areas in order to harvest medicinal plants. A variety of stakeholders including protected area managers – both national, provincial and private, traditional healers, civil society organisations, and academics attended.
Twenty-seven million (72%) South Africans use traditional medicines and the industry has an annual turnover of more than 3.2 billion Rands. Over 2,000 plant species (10%) of the South African flora is utilised in traditional medicines, and many of these species are declining. Gino Cocchiaro presented on biocultural community protocols (BCP), including the BCP of the Kukula Traditional Health Practitioners Association and Rodney Sibuyi (KTHPA) presented on the history of the Kukula Traditional Health Practitioners Association and discussed some challenges regarding accessing traditional medicinal plant species and their management. South African National Parks highlighted parks-based protocols for non-commercial harvesting, and park objectives concerning plant harvesting which includes promoting sustainable use, alternatives, reducing illegal harvesting and monitoring. Difficulties managing traditional medicinal harvesting was illustrated by the case of Warburgia salitaris (Pepperbark tree), the bark is a popular traditional medicine. Kruger National Park has two of the largest surviving populations of this endangered tree, and recent increases in commercial harvesting pressures have resulted in collection methods changing form the sustainable harvest of small strips of bark to ringbarking trees which results in their death. Issues raised included defining 'communities', identifying benefits, who has rights to them and their equitable sharing, costs of access, unity and consensus among beneficiary groups. Important sustainability issues included determining what is ecologically sustainable, adaptative strategies, and addressing situations where demand is greater than supply. The outputs of the workshop will feed into further workshops which will aim to include a greater diversity of stakeholder groups.
Kukula Traditional Healers Practitioners Management Committee Meeting
Gino Cocchiaro and CathTraynor (Natural Justice) attended the Kukula Traditional Health Practitioners Association Management Committee Meeting on 15th July in Bushbuckridge, South Africa. During the meeting with the healers, Biocultural Community Protocol was revisited, and current concerns of the group discussed. Key concerns centred around recognition, access to plants, loss of knowledge, and livelihoods issues. Participants summarised the groups main activities since the formation of the Kukula Traditional Healers group which included discussions with government departments, local private nature reserves, training on prior, informed consent, and development of the traditional knowledge commons pool – a platform to share knowledge among themselves. Participants discussed the future workplan and various ideas and activities to address their priority concerns.