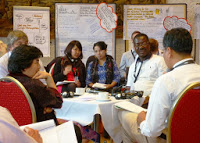 Cath Traynor (
Natural Justice
) attended the Joint Expert Workshop on Practical Approaches to Ensuring the Full and Effective Participation of Indigenous Peoples in REDD+: Assessing Experiences and Lessons to Date on 10-12 September at the Castle of Weilburg, Germany.
The central workshop question was "how can we encourage and enable the full and effective participation of Indigenous Peoples in REDD+ decision making?" Participants discussed local level experiences and examined national level participation of Indigenous Peoples in REDD+ country programmes. Critical issues that emerged included:
The policy and procedures which govern the operations of the Forest Carbon Partnership Facility and UN-REDD Programme are distinct and complex, and although some harmonisation of guidelines has occurred, further streamlining in line with the United Nations Declaration on the Rights of Indigenous Peoples is required.
Safeguards operational guidance is limited and implementation remains a real challenge.
Whether full and effective participation of Indigenous Peoples is possible without recognition of their rights to lands, territories and natural resources.
REDD+ processes need to take into account the customary structures of Indigenous Peoples and ensure that they are fairly represented on national REDD+ decision-making bodies and that they can meaningfully influence REDD+ processes.
Institutionalising Indigenous Peoples participation through legal frameworks and enforcement could enhance participation.
In some countries the REDD+ process has provided a space for Indigenous Peoples to enter into dialogue with governments and to call for a greater recognition of their rights.
The biocultural community protocols approach provides important lessons for local-level Indigenous Peoples participation and these could inform REDD+ processes.
The key messages from the workshop will be released shortly by the hosting institutions: the German Federal Ministry for Economic Cooperation and Development, the Forest Carbon Partnership Facility, and the UN-REDD Programme.