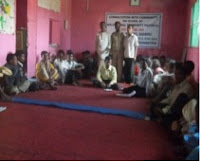 The traditional leaders of the Paudibhuyan community of the Khandadhar region of Sundergarh District in Odisha gathered on 24 December 2012 to prepare a strategy to protect their territory and culture. The meeting was facilitated by Jivan Vikas, a local NGO, and Sankar Pani of
Natural Justice
. Paudibhuyan is one of the thirteen Primarily Vulnerable Tribal Groups of Odisha, and its population is sharply declining due to various reasons. The community is concentrated in small pockets in the Sundergarh, Keounjhar, Deogaarh and Dhenkanal Districts. At the meeting, the elders of the community shared their rich cultural heritage and traditional knowledge which they have fostered for generations and encouraged their successors to preserve and protect their traditional knowledge. They also raised concerns about various threats to common resources, especially emphasising the impact of mining on local bodies of water.
The community leaders resolved to draft a
biocultural community protocol
to record their traditional rights and resources. They demanded recognition of their habitat rights and community rights under Forest Rights Act. They recalled their traditional herbal medicines and recited their traditional folk songs and emphasised the need to preserve them for future generations.