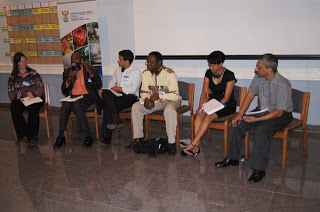 On 27 February 2013,
Gino Cocchiaro
(
Natural Justice
) and Rodney Sibuyi (Kukula Traditional Health Practitioners Association) participated in a panel discussion together with Tom Suchanandan (South African Department of Science and Technology –
DST
) and Lazarus Kairabeb (Nama Traditional Leaders Association, Namibia). The panel was moderated by Barbara Lassen (
ABS Initiative
) and dialogue and questions followed brief presentations by panelists. The panel was held as part of the seventh Pan-African Access and Benefit Sharing (ABS) Workshop hosted by South Africa's
Department of Environmental Affairs
from 25 February to 1 March 2013 in Phalaborwa, South Africa.
Gino presented on "A Traditional Knowledge Commons." He began by identifying challenges, how knowledge sharing happened before 'modernisation', and suggested potential new models for sharing traditional knowledge. He discussed how knowledge can be seen as a relationship between the ancestors, the group of traditional healers, and individual experiences. He further explained how the use of a biocultural community protocol (BCP) by Kukula helped to create and preserve a pool of knowledge. Mr Sibuyi also emphasised the challenges faced by traditional healers and the positive experience with the BCP.
Mr Suchanandan described the South African National Recordal System, an initiative of the DST which will document, record and store Indigenous Knowledge (IK) for the benefit of the communities of South Africa. It takes into consideration the recording of IK in various multimedia formats and aims to promote and conserve community IK. It proposes both positive and defensive protection of IK. The system also aims to collect grassroots community experiences in local languages.
Mr Kairabeb shared on his experiences during the recent capacity building workshop on the Nagoya Protocol on ABS, Traditional Knowledge and Nagoya – Kuala Lumpur Supplementary Protocol on Liability and Redress of Bio-safety in India.