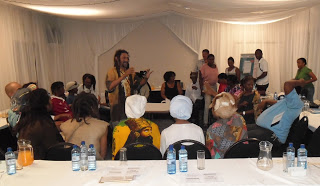 From 13-14 March 2013 in Upington (Northern Cape, South Africa), Natural Justice, in collaboration with the Indigenous Knowledge Systems unit of the Medical Research Council of South Africa (MRC), facilitated a two-day workshop on the international legislative framework and the South African domestic laws relating to access and benefit-sharing. The workshop, conducted by Laureen Manuel and Lesle Jansen (Natural Justice), included a day-long session on biocultural community protocols (BCPs).
The participants of the workshop consisted mainly of the San and Nama peoples, a significant respresentation of the Rastafarians from the Kalahari, as well as researchers from the MRC, and a representative of the Department of Science and Technology, which funded the workshop. The workshop centred on the international and domestic law on Access and Benefit Sharing, specifically the Convention on Biological Diversity and the Nagoya Protocol, and the National Environmental Management: Biodiversity Act and Bioprospecting, Access and Benefit Sharing Regulations.
The session on BCPs triggered ardent discussions around issues of spiritual connectedness to the ground, the need for knowledge on laws and the rights of Indigenous peoples. The discussions also highlighted the importance of communities organising themselves and the establishment of governance structures.
The workshop concluded with a prayer and with each participant sharing their thoughts on their experiences throughout the two days.