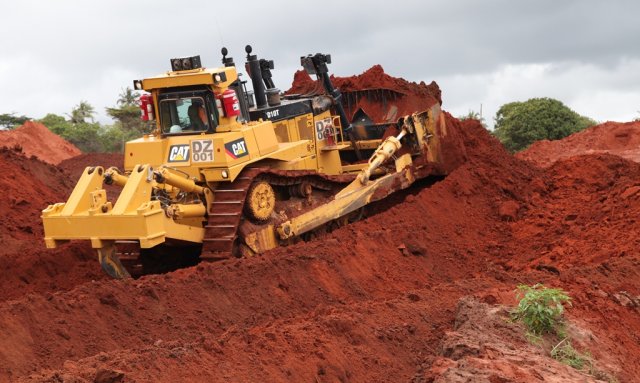 http://basetitanium.com/education-and-media/photo-library
On Saturday October 26th Maya Sikand from Natural Justice attended a public forum in Nairobi about the Voluntary Principles and the growing mining, oil and gas sectors in Kenya. The meeting was hosted by business analyst Aly-Khan Saatchu's monthly business club, Mindspeak. The panel featured Cliff Otega, a Kenyan mining analyst, His Excellency David Angell, Canadian High Commissioner to Kenya, Evelyn Samba, Deputy Secretary to the Kenya National Commission on Human Rights, and Simon Wall, Corporate Affairs Manager of Base Titanium. The meeting drew an audience of over 200 people.
The challenges for the new and growing mining sector in Kenya and the opportunities for guidelines such as the Voluntary Principles were discussed by each of the panelists. Cliff Otega pointed out to a room full of young people hoping to benefit from this new industry, that the extractives industry doesn't actually provide many employment opportunities as it is so capital and machinery intensive. Kenya should not look to this as the sector that will transform the economy for youth. However, all the panelists agreed that the multiplier effects, including infrastructure and services development will bring benefits to the region.
A focus for the meeting was on the Voluntary Principles on Security and Human Rights, a multi-stakeholder initiative involving governments, companies and NGOs, that was founded in 2000. It is the only set of principles specifically guiding the extractive industries in respecting human rights. Currently, several countries, including Canada, are participants, as well as a number of corporations and NGOs. High Commissioner Angell, Chair of the Voluntary Principles from 2011-12 spoke extremely positively of the Canadian government's and corporations' efforts to improve Corporate Social Responsibility programs in the extractives sector. Currently, Canadian extractive companies have over $10 billion invested in East Africa alone.
Many audience members as well as representatives from KNCHR raised questions about whether extractives-led development actually benefits local communities. There was also much discussion on redress mechanisms to actually hold international companies accountable to these lofty principles. The issues of benefit sharing, land acquisition and compensation were also raised as matters Kenyans need to be wary of as the extractives sector expands.
The major case for mining in Kenya discussed was Base Titanium Mineral Sands project in Kwale. This is Kenya's first large-scale, world-class mining investment. Simon Wall from Base Titanium spoke about the company's environmental and social performance that adheres to the highest global standards, particularly as signatories to the
Extractive Industries Transparency Initiative
. In the 13 year lifespan of the project Base Titanium will put over $1.1 billion into the Kenyan economy, $220 million in direct royalties to the government and the rest as operational costs including food, salaries and services.