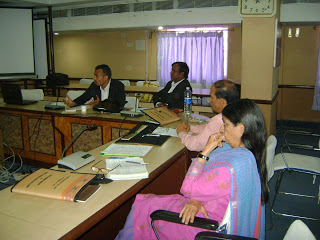 Natural Justice
and
Vasundhara
jointly organised a meeting on 22 February 2013 in Bhubaneswar, Odisha District, to discuss the scope of Biocultural Community Protocols (
BCPs
) in asserting community rights. The meeting was facilitated by Sankar Pani (Natural Justice) and was attended by representatives from various civil society organisations working in Odisha.
Mr Y Giri Rao (Vasundhara) welcomed participants and presented the keynote address. Kabir Bavikatte (Natural Justice) detailed the jurisprudence of BCPs and how they have been used by various communities across the globe in articulating and asserting their stewardship rights. Pratap Mohanty (Vasundhara) spoke on how BCPs can be used as tools in claiming habitat rights for particularly vulnerable tribal communities such as the Juang, Paudibhuyan and Chuktia Bhunjia.
Bhajaman Mahant (Jivan Vikas) presented on the impact of extractive industries on Paudibhuyan Communities and how the community is further alienated by the compensatory afforestation programmes on community land. Sricharan Behera emphasised how BCPs can be used to preserve community knowledge. He also asked how the traditional knowledge related to the production of organic turmeric in Kondhamal can be protected and patented.
Sambandh, a local organization working with traditional healers, presented on the biocultural practices of traditional healers around the sustainable use and conservation of medicinal plants. Priyabrat Satpathy (Action Aid), lawyer and activist Chandranath Dani, Dillip Das (Antoday), Pravat Mishra (RCDC) also participated in the discussions.