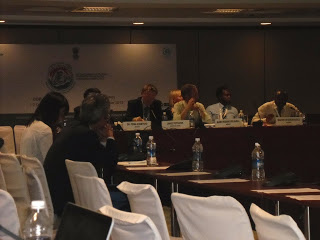 On 18 October 2012, Laureen Manuel of Natural Justice attended a high-level panel discussion at a side event at the Convention of Biodiversity's (CBD) 11th Conference of the Parties (COP 11) in Hyderabad, India. The discussion contemplated key questions surrounding the implementation of the Nagoya Protocol on Access and Benefit Sharing (ABS). The panel included Bard Vegar Solhjell, Minister of Environment (Norway) (Chair), Sileshi Getahun, Minister of Agriculture (Ethiopia), Janez Potocnik, European Commissioner for the Environment (European Union), and Dr Pema Gyantsho, Minister of Agriculture (Bhutan). Delegates who attended this gathering included government representatives, civil society organisations and representatives of Indigenous Peoples and local communities.
India, Japan, Germany and South Africa were among the countries that shared their experiences on ABS. Germany said they had several ABS programmes in place, including the work of the
ABS Capacity Development Initiative
to assist developing countries with the implementation challenges. South Africa was applauded by the gathering when it announced that it would be ratifying the Protocol next Tuesday, and Norway indicated that they would ratify the Protocol within the next six months.
In summary, the main observations of the panel included:
Although only a few countries have ratified the Protocol, many countries are at various stages aimed at ratification, with many countries revising their legislation and policies to meet the obligations of the Protocol;
The importance of awareness-raising of rights and other ABS issues cannot be over-emphasised;
Capacity building and financial and human resources are critical to the process, and is lacking in many countries;
Collaboration and the exchange of experiences among Parties are important for effective implementation and should continue in the future.
In his concluding remarks, the Ethiopian Minister of Agriculture, Mr Getahun, said many of the reasons submitted by Parties for not ratifying the Protocol were related to preparatory processes leading up to ratification. These reasons should not hinder ratification. He said that effective implementation starts with ratifying the Protocol despite the preparatory challenges (because activities cannot be classified as legal or illegal if the Protocol is not ratified), making communities aware of the importance of their biodiversity resources and their rights as an informed public will assist in combating biopiracy, and finally, by establishing effective check points.