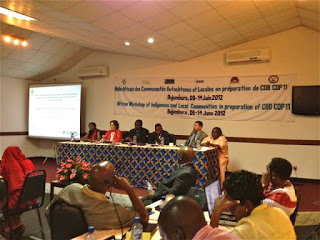 The first of three regional workshops in preparation for the 11th Conference of the Parties to the Convention on Biological Diversity (CBD) is taking place from 9-14 June in Bujumbura, Burundi. This workshop has been organized jointly by the CBD Secretariat and the Access and Benefit Sharing (ABS) Capacity Development Initiative and brings together nearly 50 representatives from indigenous and local communities (ILCs) from across the Africa.
The workshop is split into two sections. The first section will concentrate on the CBD, in particular articles 8j and 10c, and includes a closer look at the Nagoya Protocol on Access to Genetic Resources and the Fair and Equitable Sharing of Benefits arising from their Utilization. Gino Cocchiaro, Lassana Kone and Johanna von Braun from Natural Justice supported this last segment through an introduction to biocultural community protocols and their value in the context of ABS.
The second section of the workshop includes an introductory training on Intellectual Property Rights (IPRs) and ABS, organized on the specific request of ILC representatives to the ABS Initiative, with the aim of better understanding IPRs.