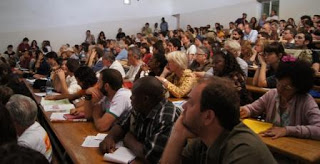 The 2011 World Social Forum (WSF), took place in Dakar, Senegal, from February 6-11. The bi-annual forum, which was attended by approximately 75,000 people from social movements, networks, NGOs, and other civil society organizations, was host to a range of discussions on social, environmental, political, and economic issues. Though the WSF was troubled by logistical difficulties throughout, participants were able to share experiences, network, and plan actions for the coming years.
The Rio+20 discussions at the WSF brought together a range of individuals and organizations to discuss strategies for co-operation and unity leading up to the 17th Conference of Parties to the United Nations Framework Convention on Climate Change (UNFCCC) to be held in Durban in December and the United Nations Conference on Sustainable Development (also known as the Rio+20 Earth Summit) to be held in May 2012. The participants also developed a Declaration of the Social Movements Assembly.
France Libertés, a French NGO and founding member of Collectif pour une Alternative à la Biopiraterie, working on cases of biopiracy and rights to water, among other things, supported Natural Justice to attend the forum and present its experiences on 2 cases of biopiracy in South Africa, including the Nestle-Rooibos and Honeybush case. Natural Justice also presented on biocultural community protocols as a tool for communities to utilize when engaging with parties that wish to access their resources and/or traditional knowledge. The next World Social Forum will be held in 2013 in Brazil.