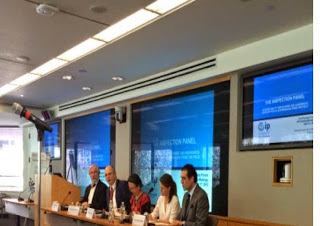 Panelists at a Spring Meetings side event
In the second week of April 2015, the World Bank held its annual Spring Meetings in Washington, DC. During that week a program of side events hosted by civil society, the Bank, and others takes place. These events allow for deeper exploration of relevant issues and information sharing. In addition, the Bank held meetings with indigenous peoples representatives and institutions during the course of the week on a variety of different issues.  
The Spring Meetings this year were held against the backdrop of the ongoing revision to the Bank's environmental and social safeguard policies. The Bank released a draft of a new proposed framework called the Environmental and Social Framework (ESF) in July 2014, and then held a period of consultation on the draft ESF that closed in March 2015. Natural Justice participated in the meetings held by the Bank and also provided written comments on the draft ESF. 
Both the existing safeguard policies and the draft ESF are critical for indigenous peoples. The Bank's projects often impact indigenous communities in a variety of different and at times negative ways, and those projects are governed by Bank policies. Having robust policies in place that take indigenous peoples' rights into account is an important aspect of ensuring that the negative impacts of projects are avoided or at least minimized. One of the most troubling aspects of the draft ESF is that it contains an "opt-out" clause that would allow governments to avoid applying the specific policy regarding indigenous peoples. 
Indigenous peoples' representatives and institutions have been particularly concerned with the opt-out clause, along with other aspects of the draft ESF, such as its lack of incorporation of human rights. The Working Group on Indigenous Populations/Communities (WGIP) of the African Commission on Human and Peoples' Rights (ACHPR) has engaged extensively with the Bank during the revision process. Their submission on the draft ESF can be found on the World Bank's website. Underscoring the importance of the WGIP's work, the ACHPR adopted a resolution on the draft ESF during its 17th Extraordinary Session in February 2015. Among other things, the ACHPR urged the Bank to remove the opt-out clause in ESS7. 
Bank officials — including Bank President Jim Yong Kim — reported during the Spring Meetings that the opt-out clause would be removed. This satisfies one of the core requests made by indigenous peoples regarding the draft ESF, which was set forth in their Common Position presented to the Bank during the Spring Meetings. While the removal of the opt-out clause would be a positive development regarding the draft ESF, other challenges remain, such as the fact that a significant portion of the Bank's lending portfolio will continue to remain outside the draft ESF policies. Nevertheless, the Spring Meetings provided an important opportunity for dialogue between the Bank and indigenous peoples, and it is hoped that meaningful dialogue continues to take place in the future.