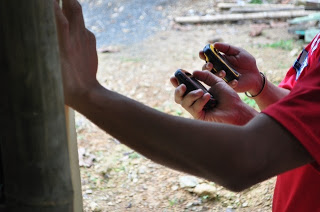 Hand-held GPS units have been used by communities
around the world to map their territories and important
resources and cultural sites.
On 8 July, Holly Shrumm (Natural Justice) attended a day-long meeting on spatial planning for conservation and sustainable development in Sabah, Malaysia (the third in a
series
organised by
Hutan
and the Malaysian branch of the
World Wide Fund for Nature
). Building on the discussions undertaken in the
previous meeting in late May
, this meeting included the following:
An update from the consultants compiling the draft 2013-2033 Sabah Structure Plan;
An update from the NGO team compiling biodiversity data, including the latest spatial assessment of forest cover in Sabah;
Discussion about several planning scenarios produced by the initial spatial analyses; and
Suggestions about possible policy amendments or new policies that may be needed to address current and future challenges such as climate change and voluntary conservation by communities and companies alike.