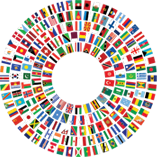 (WBG Logo)
On 10 October 2015, during the
World Bank's annual meetings
in Lima, Peru, several civil society organizations under the leadership of Eurodad and the Center of Concern hosted a Strategy Workshop on "Financing of infrastructure: global and regional trends and impacts on sustainable development and human rights." At the workshop, participants noted several trends regarding the financing of infrastructure, including the growing reliance on private sources to fund large infrastructure projects and the lack of transparency of institutions that provide financing, such as the Brazilian Development Bank. Participants also noted the challenges that communities face when decisions on mega (and even larger) projects are made as part of discussions to which they have no access. Finally, it was noted how difficult it can be to monitor financing for development projects when the money is directed through financial intermediaries. To begin addressing these and other challenges, participants decided on several outcomes, including:
– The need for a mailing list to link different databases on projects, related information and news about legislative changes in order to facilitate responses to infrastructure projects in the region. In this context it was decided to revitalize the "IFIs en la mira" list, which works in Spanish; and
– The formation of a group of volunteers to drive the work on such a list. The group will focus on holding a strategy meeting to take place early next year, developing a methodology for surveying legislative changes to facilitate infrastructure projects and their financing, and building a roadmap for interdisciplinary work on cross-cutting issues emerging in the implementation of megaprojects. Additionally, it will seek to ensure that relevant information is shared among different groups, including those working on the World Bank, the G20, and others.
These outcomes provide a good basis for further collaboration in this field. In particular, Natural Justice and Columbia University, together with the Heinrich Boll Foundation and Center of Concern will hold a workshop in March 2016 that will examine the trends of development finance and the state of accountability in financing large infrastructure projects.