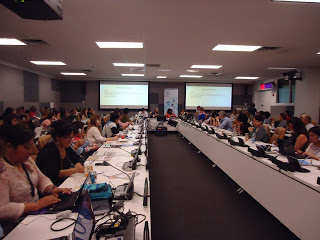 Photo credit: Q"apaj Conde
The program was moderated by Mr. Rama Rao Sankurathripat (Director, Cooperation Office WIPO) and featured the following panelists:
Mr. Q"apaj Conde, WIPO Indigenous Fellow, Aymara, Pluninational State of Bolivia.
Ms. Yolanda Teran, member Red de Mujeres Indígenas por la Biodiversidad, Kichua, Ecuador.
Ms. Lucy Mulenkei, Executive Director of the Indigenous Information Network (IIN), Masai. Kenya
Mr. Tuomas Aslak, Co-chair of the Global Indigenous Youth Caucus, Sami, Findland.
Panelists highlighted the opportunities TK Documentation offers in terms of the preservation of TK as well as the protection of TK against abuse, while also raising concerns in terms of who has access to any databases and their content. The evolutionary nature of TK was highlighted and the difficulty of categorizing TK within databases. Finally, Mr Aslak from the Sami Council highlighted their own community managed TK databases as an example of addressing in particular concerns relating to ownership and control of database contents. WIPO's toolkit is now open for comments and is available
here
.