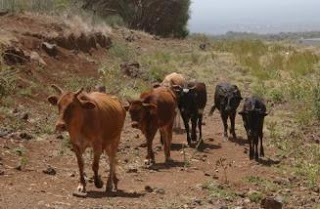 On 17 April, Holly Shrumm (Natural Justice) participated in a webinar entitled "The Role of Livestock Management in Sustainable Landscapes". It was hosted by the e-Institute of the World Bank and the discussant was Pablo Manzano (Global Coordinator of the World Initiative for Sustainable Pastoralism, International Union for Conservation of Nature). On the basis that traditional pastoralists have thrived during millennia in areas with low productivity and hard conditions, the webinar considered questions such as what are the keys for sustainable pastoralism, what opportunities does livestock bring for environmental restoration and poverty reduction, and what is the role of mobile pastoralism for climate change adaptation and mitigation.
Throughout Mr. Manzano's presentation and subsequent discussion with participants, topics included, among others, ecological benefits of agropastoralist systems; the interrelated pillars of pastoralist systems (namely, natural resources, the herd, and the family and wider social institutions); the central importance of mobility in food security; the role of rangeland soils in carbon sequestration; buffering against climate crises by increasing access to financial services (for example, to restock herds after a disaster); the use of pastoralist networks; and biodiversity conservation in large landscapes.
Please visit the e-Institute website for more information about free online courses, webinars, and more.