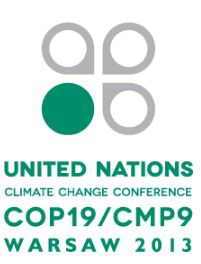 The 19th session of the Conference of the Parties to the United Nations Framework Convention on Climate Change takes place in Warsaw, Poland from 11-22 November 2013. Parties to the convention will continue to negotiate a new global climate agreement, which they intend to adopt in 2015 and implement no later than 2020. The Convention aims to keep global temperature rise below the critical 2oC threshold. The talks take place amid increasing evidence of rising greenhouse gas emissions and climate change and the need for urgent action:
To ensure the world is on a climate safe trajectory Parties need to substantially increase both their short and long term targets for emissions reductions and to implement relevant actions. Despite the mounting evidence and need for urgent action, recent comments by Christina Figures, executive director of the UNFCCC to the
Guardian Newspaper
, indicated that negotiations would not be based upon scientifically derived carbon budgets as this would be too politically sensitive. The conference will consider a variety of agenda items including adaptation, finance, technology and mitigation, the latter includes reducing emissions from deforestation and forest degradation in developing countries (REDD+). Natural Justice will be following the conference and in particular discussions and outcomes related to REDD+ and how these could affect community rights issues.