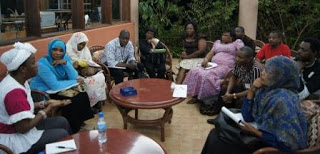 From January 24-27, the "African Regional Consultation between Indigenous Peoples, Forest-Dependent Communities, and the UN Reducing Emissions from Deforestation and Forest Degradation (REDD) Programme: Free, Prior and Informed Consent (FPIC) Processes and Recourse Mechanisms" took place in Arusha, Tanzania. The meeting was the third consultation of the UN-REDD Programme that was organized with community representatives; the previous meetings taking place in Hanoi, Vietnam, and Panama City, Panama. The meeting in Arusha was attended by approximately 60 people representing African Indigenous peoples and forest-dependent communities, NGOs, and UN agencies. The workshop provided participants with information on the UN-REDD Programme and various experiences with FPIC processes. Gino Cocchiaro (Natural Justice) presented on FPIC mechanisms that communities may wish to utilize if engaging with REDD projects.
Over the final 2 days of the meeting, participants drafted recommendations and guidelines for FPIC processes and recourse mechanisms, which will be used to inform the final guidelines to be adopted by the UN-REDD Programme. The guidelines drafted by participants included: ensuring that when "FPIC of communities are sought, the customary laws, procedures and community protocols of these communities are respected and complied with"; recommending an independent dispute mechanism to hear complaints under the various National REDD Committees; and the creation of an Ombudsman or Legal Aid Office within the REDD mechanism to specifically represent the interests of communities in REDD projects. Background documents and workshop materials can be accessed here.
On January 28, Gino was also invited to attend a meeting of the Pastoralist Task Force Group to discuss the work of Natural Justice and the use of biocultural community protocols (BCPs). Natural Justice was invited to return to Tanzania to synergize its work with Tanzanian NGOs working directly with pastoralists and to provide further training on BCPs.