One day I am shuttling to the office with Swvl, the Kenyan uber-like bus service, the next, I am sitting at my parent's dinner table making myself comfortable as I prepare to start 'working from home'. Covid-19 has turned all our lives upside down, making me conscious that life's circumstances can flip in the twinkle of an eye. This has made me immensely grateful to be alive and breathing. As we adjust to this "new normal",  I now have a  taste of what it feels like to have my freedom of movement taken away.
Appreciation seems to set in once something is taken from you. Nothing is guaranteed in this life, not even tomorrow. What's different now is that, in between my schedule, I now call my 'twin' brother, greet him with importance and ask him how Nairobi is. You know people in shags are always asking Nairobians how Nairobi is. But who knows how Nairobi is at the moment? Even people in Nairobi can never really tell how Nairobi is on a normal day!
But even in the midst of it all, I can see what is happening around me. Every moment tells a story. You just have to be willing to understand it. This pandemic has equalized us on many fronts but it has also exposed the social, economic, and health inequalities in the country and around the world. Notably, our politicians who have always resorted to traveling abroad for further medical treatment have now been forced to use the same substandard health facilities and resources they have previously avoided or neglected.
Mama Ruth, as we call her, runs a small food kiosk. Most Kenyans know it for its common name 'mama ntilie'. I find her standing outside her kiosk. Two men sit inside enjoying a bowl of beans and chapati. She says her business has gone down. At the end of the month, she will be required to pay her business rent, house rent, and feed her children.
Miles away in Kilifi, the President of Kenya has ordered a lockdown for 21 days. Kilifi is one of the four affected counties that had a rapid increase in COVID-19 cases. One evening, I call Justus Tsofa, my colleague who works as a Community Environmental Legal Officer, and he says that his movement has been restricted. He cannot undertake his fieldwork because he cannot move beyond Malindi. The only thing on his mind is one of his clients, who now faces a different challenge. A nearby salt farm's illegal expansion destroyed her crops. The County Ministry of Agriculture and Livestock had ordered a site inspection and damage assessment to facilitate payment of compensation. But she now has to wait a bit longer and, due to the ongoing decay of the trees, is also at risk of losing the evidence of the number of crops destroyed.
These are two real-life issues, a representation of a larger population with different circumstances and challenges, but whose hopes seem equally elusive. Although hope is the active, unseen force that keeps us going, it may be the last thing on a person's mind, particularly when life seems to dim the slightest ray of hope, threatening to pitch our world in darkness.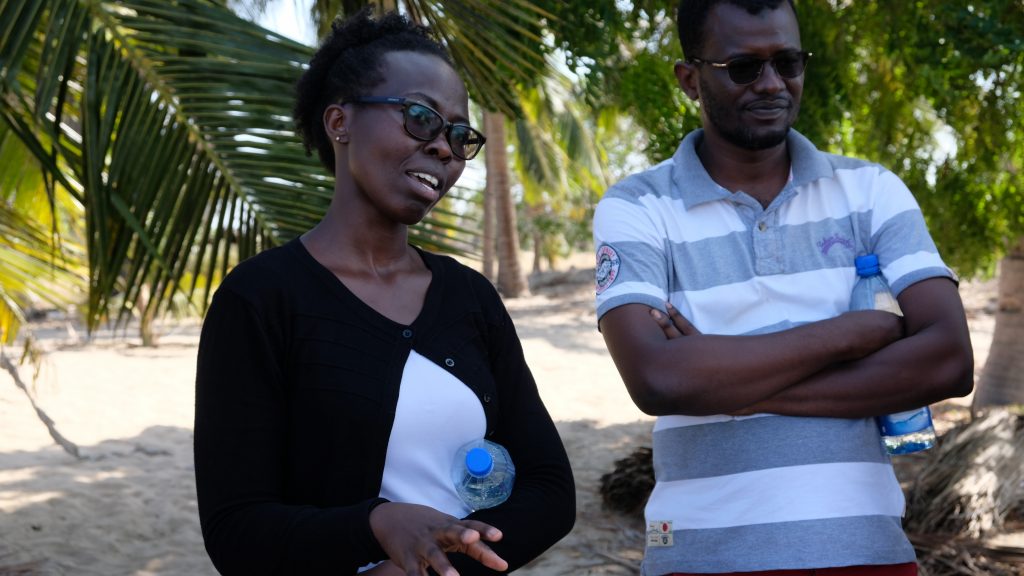 For the communities we work with, everything has slowed down. Some county offices have closed and staff members asked to stay home, whilst in others, movement has been entirely restricted. The challenges facing these communities are still ongoing while the pandemic further exposes and increases their vulnerability.  Despite these setbacks, we are finding alternative channels such as online communication to continue our work. 
We cannot travel to meet a community leader in Lamu, or the woman who is fighting for just compensation for loss of her crops. And what of the leader of the Boyani community that has been affected by the Limestone Quarry? Our work depends on contacts, on social gatherings with communities, but this pandemic has severed this very idea. We cannot travel to discuss the issues, the laws and how to resolve the injustices they face. We cannot meet communities to do our frequent updates or to physically show them that we still have their backs.
I want to assure them that our hearts and thoughts are still with them. The pandemic may have slowed things down but for us, this is like running, not in kilometres but in milestones: those corners ahead, that uphill stretch ahead, and the joy of fulfilling those targets. In the end, those who are determined to finish, will finish a run.
At this moment, empathy, compassion, hope and resilience resonate with me. After so many weeks of reflection and introspection, on a really personal level, I understand that this is the time to lean on each other. We each have dreams left in us. We each need a person to hold our hand, to push us to write a different narrative in our lives. Sometimes, we need to hear "you can do this" or "we are in this together", to enable us to ride on hope, not getting tied in forests for twigs. In humility, I dare say that this too shall come to pass and we shall rebuild what is left because there is certainly hope on the other side.  
To my Muslim brothers and sisters, Ramadan Kareem! And until we meet again, let's continue to wash our hands, let's put on masks and let us maintain social distancing.