In early May 2023, members of the Southern African team of Natural Justice drove up the west coast of South Africa to meet with our community partners in St Helena Bay. Together, we had organised a workshop with various community members to discuss the publication of the draft sector plans for the Marine Spatial Planning Act.  
The past decade has seen significant interest in the South African coastline as a source of oil and gas. With the war in Russia-Ukraine and the impact this has had on gas supplies, there has been considerable movement on renewals of exploration rights for oil and gas exploration – especially those granted prior to 2014.
These interests need to be managed, coordinated and balanced in order to ensure compliance with environmental laws – but also to ensure that communities are not negatively impacted by the exploration and extraction activities.
Consider a coastline dotted with seismic ships and oil rigs. These could pose significant challenges for marine ecosystems, small-scale fishers, and affected communities who derive a livelihood from the sea, and have cultural connections to, and spiritual beliefs related to the ocean. Not only will an increase in offshore oil and gas exploration and extraction worsen the climate crisis, but it will also threaten the livelihoods of small-scale fishing communities who have been fighting a long battle to have their rights recognised by the government.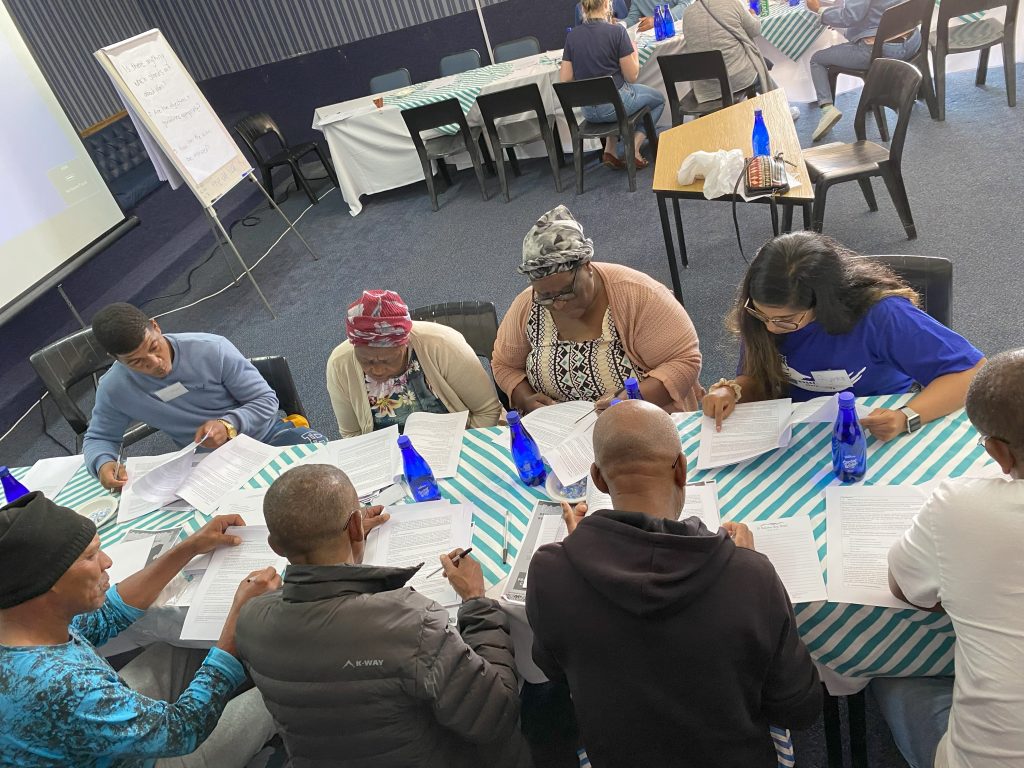 At the workshop, one of the themes covered was the authorisation given to Total Energies South Africa (TEEPSA)* to do oil and gas exploration off the coastline closest to these west coast communities. The workshop participants were educated and empowered on ways they can legally appeal these types of authorisations, as well as how to have their voices heard when there are public meetings.  
In governing our oceans, and deciding what activities can take place within our waters, the government must balance socio-economic development with ecological sustainability. This can only be done if there is participation in law and policy development – including ensuring that the perspectives of everyone impacted by the activities can have a say in the Marine Spatial Planning. Natural Justice continues to encourage our community partners to empower themselves with knowledge and speak up so that their views are heard.
*Note: Last week, Natural Justice and Green Connection sent in their appeal of TEEPSA's environmental authorisation