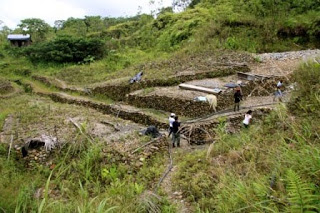 For the past week, Gino Cocchiaro and Johanna von Braun (Natural Justice) have been in Alto San Juan, Choco, Colombia, to accompany the development of a biocultural community protocol in the area. The community protocol is driven by the Instituto de Investigaciones Ambientales del Pacifico (IIAP) and ASOCASAN, a Community Council representing more than 7000 members of a largely afro-descendent community of San Juan.
The community has a rich history in traditional gold and platinum mining practices that, compared to mechanized mining, have very little impact on the environment. Unlike mechanized mining, artisanal mining does not rely on the use of mercury or other chemicals, which contaminate rivers and soil. Artisanal mining also includes a range of mitigation practices that lead to quick recovery of the mined areas. Furthermore, given the much slower pace of traditional mining, such practices provide an income for families over many generations. This contrasts with mechanized mining, which usually exploits an area within less than a year, leaving the land degraded and largely unusable to use for any other activity.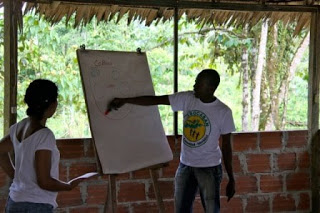 The community of Alto San Juan holds a collective title over more than 50 000 hectares in the area, which provides them with certain rights over the land, including procedural rights of having to be consulted for all activities that affect their territory or them as a community. However, over recent years, a high number of largely illegal mechanized mining has taken place without their consent or any compensation for the consequential land and river degradation.
Aiming to address this and other problems, ASOCASAN, with support from IIAP, Natural Justice and UNEP, is in the process of developing a bio-cultural community protocol to highlight the community's procedural and substantive rights in relation to the use of the areas natural resources. The community protocol, which will focus on the issues of mining, forests, and traditional knowledge related to medicinal plants, builds on the close relationship between IIAP and ASOCASAN. They aim to finalize the protocol by December this year, in time for ASOCASAN's next General Assembly.