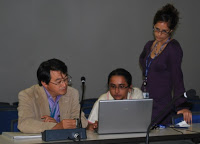 From October 16-17, Natural Justice has been working with other members of civil society in Nagoya, Japan, to strategize for the 10th Conference of the Parties (COP) to the Convention on Biological Diversity (CBD). The CBD Alliance coordinated the two-day planning and strategy meeting along with the Japanese Civil Society Network. The meeting focused on exploring the Top 10 Issues for COP 10 (a series of briefing papers prepared by the CBD Alliance), discussing key items on the agenda with the CBD Secretariat, and drafting the civil society statement for the opening plenary on October 18.
Among many of the complex issues discussed, one of the overarching key points that emerged from the 2-day meeting is that COP 10 is a critical moment to turn the tide of the CBD towards a focus on biodiversity, equity, and sustainability, and away from current trends of market-based mechanisms and the commodification of nature. There is a palpable need for the Parties and Observers to the CBD to re-take ownership over biodiversity as the core issue to survival and sustainability, rather than allowing biodiversity and livelihoods to be undermined by other international mechanisms, Conventions, and UN agencies.
The Top 10 for COP 10 briefing papers can be read here. Live and recorded webcasts of COP 10 proceedings can be viewed here.