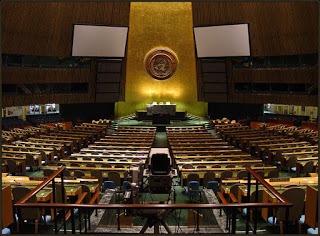 The UN General Assembly hall. (Courtesy of Wikipedia.)
The United Nations
Special Rapporteur
on the Rights of Indigenous Peoples, James Anaya, presented his annual report to the 67th Session of the General Assembly, pursuant to Human Rights Council resolution 18/8. In his report (
available here
), the Special Rapporteur provides a summary of his activities since his
previous report
to the General Assembly in 2011.
According to the report's summary, he "also provides comments on the need to harmonize the myriad activities within the United Nations system which affect Indigenous peoples. Specific United Nations processes and programmes reviewed include those relating to the United Nations Educational, Scientific and Cultural Organization; the Food and Agriculture Organization of the United Nations; the World Intellectual Property Organization; the Convention on Biological Diversity; the United Nations Framework Convention on Climate Change; the United Nations Conference on Sustainable Development; the World Bank Group; and programmes aimed at reducing emissions from deforestation and forest degradation.
The Special Rapporteur notes that the United Nations system has done important work to promote the rights of Indigenous peoples. However, greater efforts are needed to maximize action throughout the United Nations system to promote the rights of Indigenous peoples and to ensure that all actions within the system which affect Indigenous peoples are in harmony with their rights, particularly their rights as affirmed by the United Nations Declaration on the Rights of Indigenous Peoples. The Special Rapporteur makes a series of recommendations to this end."
More information about the Special Rapporteur is available on
his website
.