Kenyan national newspaper,
The Daily Nation
, reported on a recent legal victory for the community of
Lamu
, as a result of application by Lamu Resident and the Vice Chairman of
Save Lamu
, Mr Mohamed Mbwana. Mr Mbwana sought
judicial review
to quash directions of the Lamu County Commissioner who, in August 2012, directed that community land in Mvundeni be subdivided and given to private individuals, effectively depriving communities in Mvundeni rights over their traditionally held, occupied and utilised lands.
In his judgement, Justice Angote of the High Court of Kenya, sitting in Malindi, noted that such unalienated government land could only be dealt with as provided for by the Constitution of Kenya – by the National Lands Commission.
This is a significant judgement in favour of the community of Lamu. You can read the article here.
Land allocation and large-scale population migrations are just some of the flow-on effects of the impending LAPSSET (Lamu Port, South Sudan, Ethiopia Transport corridor) project. Other consequences of the planned multi-billion dollar port, transport hub, pipeline, oil-refinery, industrial complex and resort city were set out to selected members of the Lamu community in a recent workshop by the Kenyan Physical Planning Office in July. Member of Save Lamu, Hadija Bwanaadi, set out some of the concerns arising from the "Envisioning Lamu Metropolis" workshop in her article in the East African on 27 July 2013, located here.
In it, Hadija describes the new information the Lamu community received about the sheer size and scale of the LAPSSET project – not previously set out to the community and not even envisaged in the Environment and Social Impact Assessment. Given revised upward estimates of the project, it is likely to have an even greater impact on the Lamu community – including its environment (relied upon for livelihoods), society and culture.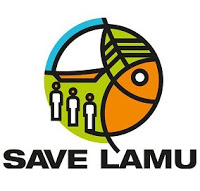 To learn more of the work of Save Lamu, visit their website or follow them on facebook.