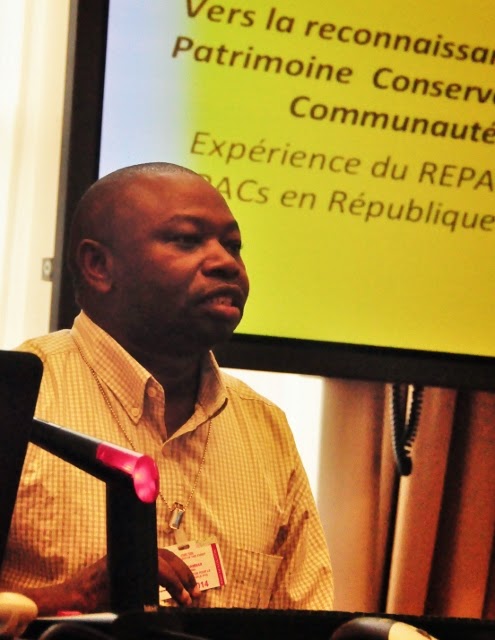 Joseph Itongwa, presenting at the NJ-ICCA
Consortium side event on access to justice
The 7th Session of the Expert Mechanism on the Rights of Indigenous Peoples (
EMRIP-7
) took place from 7-11 July 2014 at the UN Headquarters (Palais des Nations) in Geneva. This session included a continuation of last year's thematic study on access to justice, with a focus on Indigenous women, children, and persons with disabilities, as well as a new thematic study on disaster risk reduction. Natural Justice also
co-hosted a lunch-time event
with the ICCA Consortium on Monday 7 July. Overall, two key points of particular importance were: a) the multiple references to environmental issues (a notable shift over the past few sessions of EMRIP), and b) a more nuanced look at the special rights and types of marginalisation of groups within Indigenous peoples (women, youth and children, and persons with disabilities).
The Session saw a turnover in the Experts, with a new expert for the Asian region (Mr. Edtami Mansayagan from the Philippines) beginning his three-year term. The zero draft of the outcome document for the World Conference on Indigenous Peoples created much discussion, while the continuation of the study on access to justice raised a number of issues concerning Indigenous peoples' lands, territories and resources as well as reconciliatory and transformative justice.
When the draft study on disaster risk reduction was being considered, Natural Justice and the Indigenous Peoples of Africa Coordinating Committee (
IPACC
) made a joint statement, presented by Joseph Itongwa, on on climate change and vulnerability, traditional knowledge systems, customary tenure rights and legal recognition and support for customary natural resource governance, and the role of territory-based systems of natural resource governance and conservation in climate change mitigation and adaptation and prevention of disasters. Several suggestions were taken on board in the
revised version of the study and the Expert Mechanism Advice No. 7
contained therein, which is expected to be adopted at the
next Human Rights Council
session in September 2014.