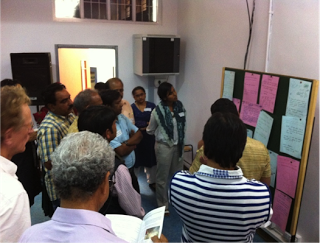 Natural Justice
and the Law, Environment and Design (
LED
) Lab organised the second meeting of the Asia Regional Initiative on Biocultural Community Protocols (ARI-BCP) at the Srishti School of Art, Design and Technology in Bangalore from 18-20 February, 2013. The meeting was attended by ARI-BCP participants from India, Sri Lanka and Nepal working to support tribal rights, fishing community rights, the rights of communities affected by extractive industries, traditional healers' rights and farmers' rights. The meeting was supported by
The Christensen Fund
and the
Ford Foundation
.
Participants primarily discussed how BCPs can be used in securing the rights of indigenous communities. They also discussed how domestic legislation can be used in preparing BCPs and how the experiences of BCPs can be shared across larger networks.
Lokhit Pashu-Palak Sansthan (
LPPS
) from Rajastan shared how the Raika community's BCP process helped the community in forming their identity and how the BCP has been used in negotiations with government agencies. They also shared about their ongoing struggle for the recognition of communities' forest rights and grazing rights under Forest Rights Act, 2006. Finally, they expressed deep concern about the declaration of Kumbalgarh National Park without consultation with affected communities.
Ramesh Bhatti of
Sahjeevan
, a local organization working with Maldhari communities in Kachha District, Gujurat, presented on how the Maldhari BCP process and how it has enabled the community in asserting their rights and establishing their identity.
Design students from the Law, Environment and Design Lab presented to the audience on the application of design tools in the claiming of forest rights by the Gujjar Community in Sariska and Camel Maldharis in Kutch under the Forest Rights Act, 2006. The teams presented innovatively using forum theater and film to highlight the issues being faced by these communities. The students presented some of their outcomes like the initial sketches of a board game on the Forest Rights Act, 2006.