On Monday, the Intergovernmental Panel on Climate Change (IPCC) released their third report under the Sixth Assessment Cycle (AR6)— dubbed "an obituary to the fossil fuel industry"— recommending deep and rapid cuts to emissions. This follows the second damning IPCC report released in late February, ringing alarm bells for people and planet. In these reports, governments and scientists agree that any further warming will push us beyond the tipping points of a habitable planet. Yet, oil and gas oligarchs and their captured state cronies remain intent as ever to secure profits by locking our continent into fossil fuel dependency.
Climate science is clear: oil and gas fuel disaster
The IPCC confirms that if we miss the 1.5 degree warming target, overshooting even slightly, the world will not be able to adapt to climate change. The result will be increasing disasters, loss and damage. And still, the IPCC report is a negotiated document, meaning the summary of these findings are downplayed and, in fact, a dilution of the real, projected impacts.
Most African countries have contributed the least to this global emergency yet are already experiencing widespread loss and damage from climate change. Africa is regularly facing climate disasters – cyclones, flooding and droughts – causing loss of lives, negative impacts on human health, water scarcity, reduced food security and biodiversity loss. Even if the world were to limit global warming to 1.5 degrees (very unlikely, as the IPCC warns) parts of Africa are warming at twice the global rate.
What the IPCC reports confirm, is that fossil fuels and their profiteers caused this crisis and will only accelerate an irreversible overshoot beyond 1.5 C, with new projects being approved and expanded across the globe.
Gas is often framed as a cleaner fossil fuel than coal. However, research shows that when the entire lifecycle of gas is taken into account, it's only marginally less damaging to the climate than coal. Moreover, "natural" gas is mostly comprised of methane, a greenhouse gas that is much more harmful to the climate than carbon. Expansion of oil and gas is not only incompatible with limiting global warming and mitigating climate change; it also undercuts the financial and political will for a just energy transition and investment in an equitable and renewable energy system.
There was a wave of protests across South Africa, with solidarity marches across the globe, to stop Shell's seismic blasting of the Wild Coast in December 2021.
On 28th December 2021, Judge Gerald Bloem ruled in favour of local Wild Coast communities. Shell was interdicted from continuing surveys used by mining companies to find and estimate the size of offshore oil and gas reserves. Judge Bloem said that Shell was under a duty to meaningfully consult with the communities and individuals who would be impacted by the seismic survey. Based on the evidence provided, Shell failed to do so in the case of the communities which hold customary rights, including fishing rights.
The Judge found that the exploration right was unlawful and invalid; it was awarded on the basis of a substantially flawed consultation process. He was also satisfied that the applicants (in this case, communities across the Wild Coast) had established a reasonable apprehension of "irreparable harm" to marine life, and to the livelihoods of the fishers, as well as their cultural and spiritual heritage.
On 17th February 2022, Judge Bloem dismissed Shell and Mineral Resources and Energy Minister Gwede Mantashe's application for leave to appeal the December ruling. He upheld the interdict pending a hearing – set down for 30th May 2022 – that will challenge the oil company's exploration right.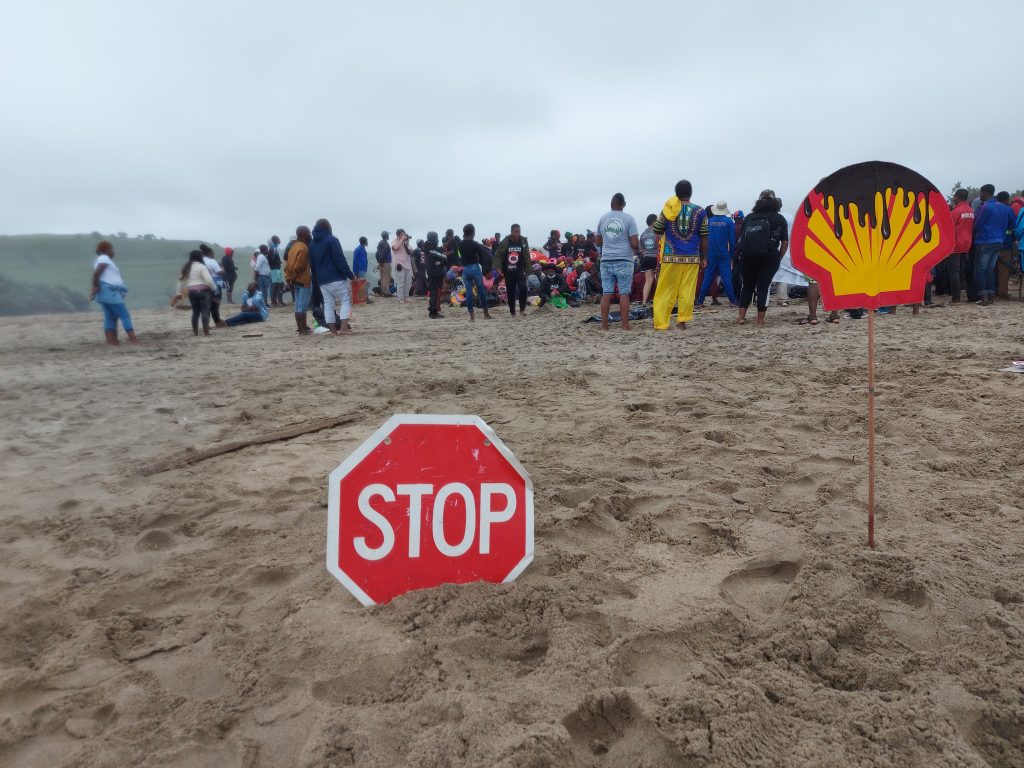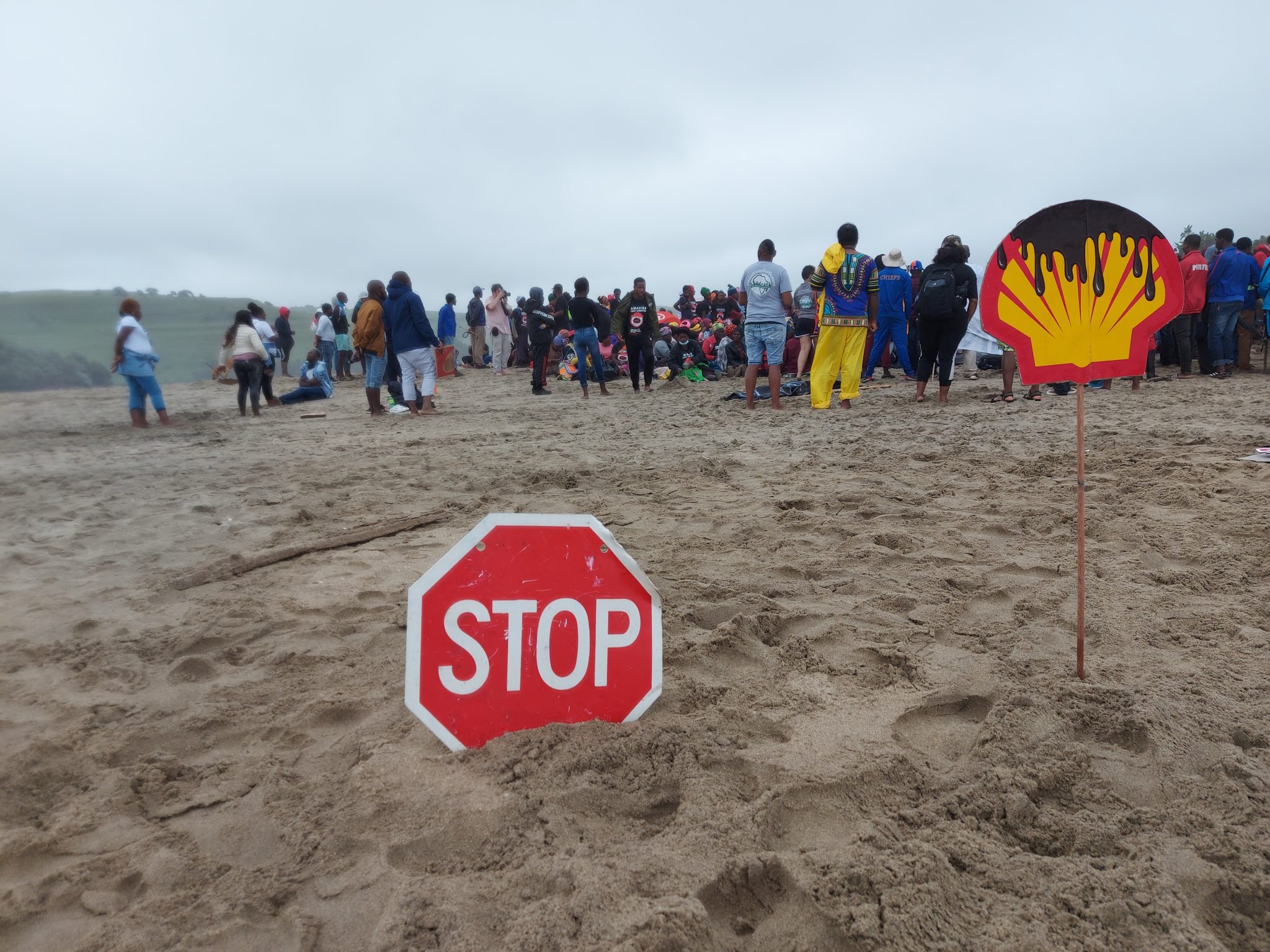 Legal action across the South African coast
In early February 2022, local fishing communities in the Western Cape won another urgent interdict stopping UK-owned Searcher Geodata from proceeding with a planned seismic survey for gas off the West Coast. Applicants and attorneys argued the company had failed to apply for environmental authorisation and neglected to consult with local communities.
In another recent case, French exploration company, CGG, delayed a seismic survey for gas after Natural Justice and other interested parties submitted comments on the Draft Environmental Management Plan (EMP) for the proposed seismic survey off the coastline of Algoa Bay. These comments highlighted, among other issues, the Environmental Assessment Practitioner's failure to consult key stakeholders, including small-scale fishers and indigenous and local communities.
In August 2019, Sasol and the Italian oil giant, ENI, were granted environmental authorisation to drill for hydrocarbons near seven marine protected areas along the coast of KwaZulu Natal. On 15th June 2021, the South Durban Community Environmental Alliance (SDCEA) delivered a 600 paragraph founding affidavit to the North Gauteng High Court. On 25th February this year, ENI withdrew their opposition to the case after Natural Justice and SDCEA filed a supplementary affidavit. In the affidavit, they challenged the environmental authorisation on several grounds; including failure to consider climate change impacts, irreparable harm to biodiversity and destruction of intangible heritage resources associated with the coastal environment.
Finally, represented by Cullinan and Associates with support from Natural Justice, SDCEA and groundWork will go to the Pretoria High Court later this year to hear the Richards Bay Gas Plant matter. This will be the first court case in South Africa challenging the environmental authorisation of a gas power plant; in this case it's Eskom's 3000MW combined cycle power plant. This landmark litigation raises specific concerns about an inadequate assessment of climate change impacts, and alternatives to this project, including renewable energy.
In bed with oil and gas
During the Shell interdict hearing on 17th December 2021, Advocate Tembeka Ngcukaitobi, representing the Wild Coast communities, slammed the Minister of Mineral Resources and Energy saying:
"Mantashe has thrown his weight behind Shell, accusing communities I represent of colonialism and apartheid. That he can brandish them in defence of a Dutch company headquartered in England, is a grave insult. My clients cannot go to the regulator because the regulator is sleeping in the same bed as Shell. Instead of regulating them, he has taken their side."
During the same month, it surfaced that the ANC received a R15 million donation from the Shell-linked Batho Batho Trust. This trust holds about 47% of investment group, Thebe, which has a 28% stake in Shell's downstream business in South Africa.
It isn't any wonder then, that Mantashe has accused local communities, environmental defenders and lawyers of "killing investment" by launching "unrelenting attacks" on the oil and gas development: "We chased Shell here and they went to Namibia and discovered oil; we chased Eni in KZN and they went to Côte d'Ivoire and discovered huge coal deposits."
On 14th December 2021, just before Shell was interdicted, Mantashe's ministry released a Gas Master Plan (GMP) which was framed as a baseline report for the natural gas sector in South Africa. amaBhungane established that the document "reads more like a pitch from the gas industry" because it was drafted by EPCM Holdings, commissioned by iGas – the state-owned gas development company – in 2019.
According to analysis by Just Share, the GMP not only quotes projections made by the gas industry (including BP and Sasol), it also echoes the DMREs position that "Compliance with environmental laws and processes should not be at the expense of a country's economic growth." Unsurprising then, that the Department of Environment, Forestry and Fisheries (DEFF) has since proposed amendments to the National Environmental Management Act (NEMA) which, Natural Justice argues, will frustrate rather than encourage public participation, also discouraging appeals and undermining the principle of free prior and informed consent.
Against this backdrop, the recent tabling of the inadequate Climate Change Bill, seems more like a greenwashing attempt to cover up for government's intent to lock in oil and gas dependency, rather than enabling meaningful action on climate change mitigation and adaptation, and protecting our human and environmental rights.
Greenwashing and global corporate power
These local developments come as no surprise when we consider the increasing "multi-stakeholderism" pushed within international human rights and development spaces. This combines with the growing corporate capture of multilateral processes, most notably within the United Nations Climate Change Conference (COP26), which took place in Glasgow last year. At COP26, there were more delegates representing fossil fuel companies than there were national delegates representing countries. South Africa's pavilion at COP26, hosted by the DFFE, was co-sponsored by Exxaro and Sasol.
Oil companies have a been part of global climate change processes since they began in the 1980s. They have spent the last 40 years actively undermining the science, promoting denialism and greenwashing false solutions. The second IPCC report finally acknowledged that misinformation has been the industry's sole contribution to the climate space thus far. Ironically the latest IPCC report, published this week, was reviewed by a Chevron staffer. Thankfully, environmental NGOs are suing oil and gas companies for greenwashing fossil gas and biofuels.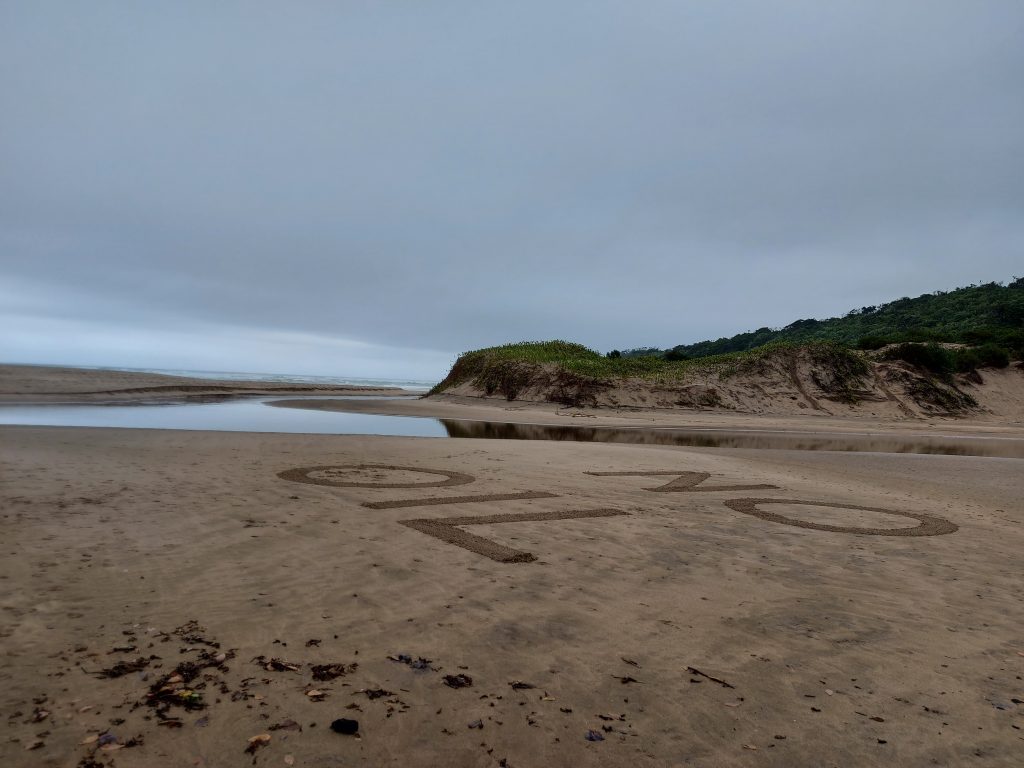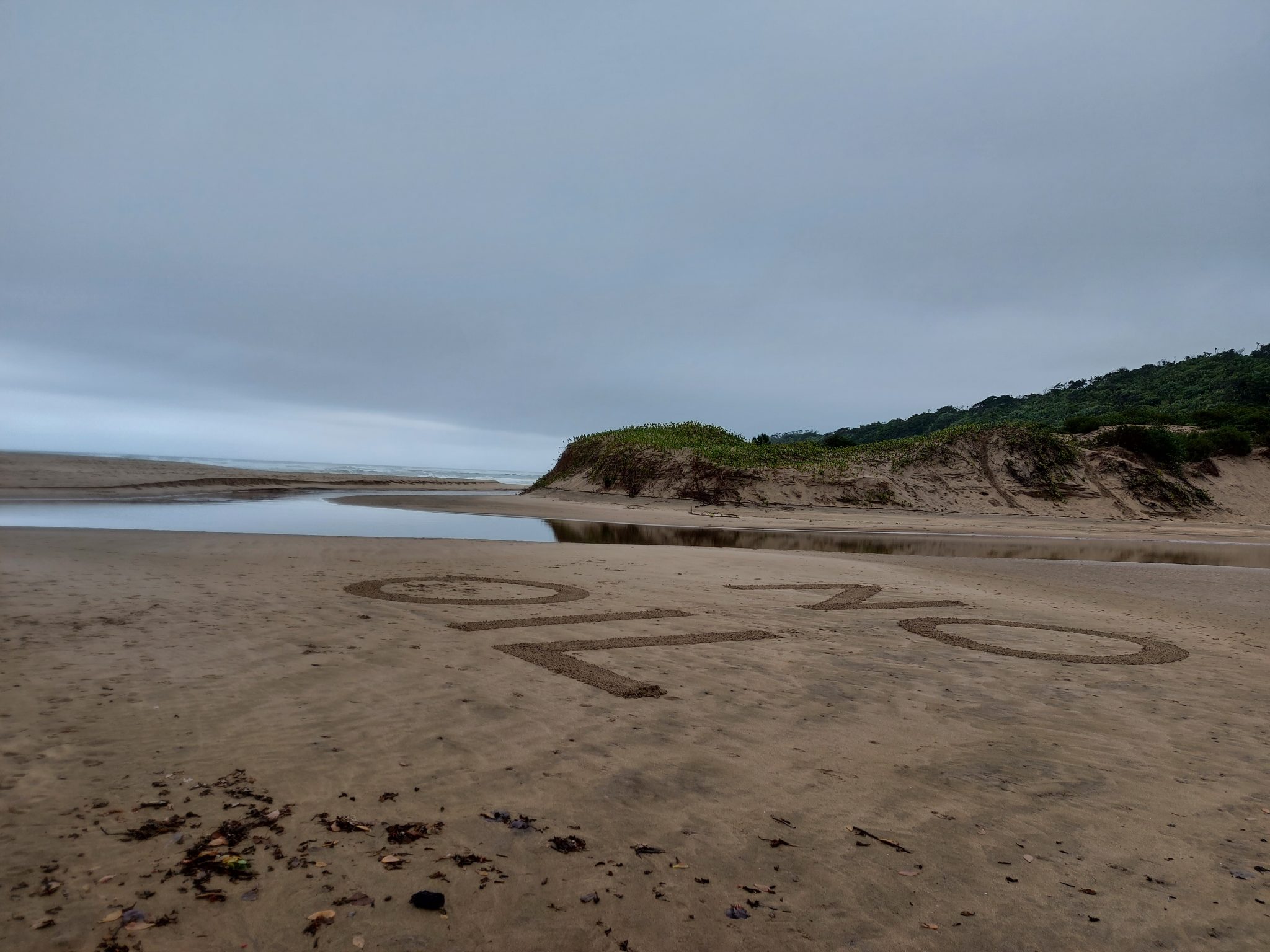 Money is power
During the interdict hearing last year, Shell's senior counsel argued that the interdict would be "catastrophic" for the company, since it stood to lose hundreds of millions of Rands. In 2021, Shell's adjusted earnings rose to $19.3 billion, from $4.8 billion in 2020 when Covid-19 hit oil demand.
The oil industry has far-reaching influence over states' policy and fiscal space nationally, globally and within multilateral spaces. This is a result of their unconscionable profits and vast investment by financiers and banks, including South Africa's.
According to a new report by BankTrack, between 2016 (following the adoption of the Paris Climate Agreement) and last year, public and private financial institutions spent at least $132 billion on just under 1,000 gas, oil and coal projects in Africa. Most of this finance came from financial institutions based outside of the continent.
But the total finance provided by South African financial institutions to fossil fuel projects and companies during the same period amounts to $8.4-billion. Standard Bank is the largest South African fossil fuel financier and is in the global top 10 financial institutions financing fossil fuel projects in Africa.
Standard Bank is also the only South African Bank that is still considering financing the East African Crude Oil Pipeline (EACOP). This project will see Total and China National Offshore Oil Corporation build the world's biggest heated oil pipeline, running through Tanzania and Uganda. In November 2020, Natural Justice, together with four civil society organisations from Uganda, Kenya and Tanzania, filed a court case at the East African Court of Justice.
All rise
Our struggle for a just transition, climate justice and, ultimately, self-determination, demands not only consistent and collective resistance. It also demands clarity about the insidiousness of the 'oil-garchy', crippling any efforts to decarbonise, cut emissions and mitigate climate change.
If we want to secure a liveable future and avert unparalleled human suffering and ecological disaster, we have no choice but to dismantle the fossil fuel industry and close the door on oil and gas. We also must demand debt free climate finance and reparations from the Global North and their oil-garchs. They continue to profit from extraction and destruction which is externalised upon indigenous peoples and local communities in and from the Global South.
The next decade is critical – our existence is literally at stake. Activists, defenders and litigators aren't waiting around for climate change to worsen, nor waiting for those who broke the system to fix it. As we're seeing, people are rising up, along our shores, across the globe and in court, holding the perpetrators and perpetuators of climate chaos to account. Indeed, the latest IPCC report, for the first time, recognises the power of litigation in safeguarding human rights, shaping climate governance, and holding states, corporates and financiers accountable under the law.
Collectively resisting oil and gas, and advancing ecological and economic alternatives that centre indigenous knowledge, and put care for people and planet first, is not only urgent for survival, but critical to achieving climate justice and system change.
Katherine Robinson is the Head of Campaigns and Communications for Natural Justice. This article was originally commissioned and published by Amandla! Media