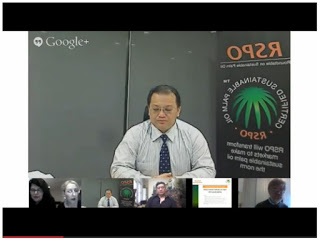 Darrel Weber, RSPO Secretary General
The discussion revolved primarily around the following topics:
Challenges, including the complexity of the supply chain, lack of consumer confidence in RSPO-certified palm oil in certain 'developed' markets, and the overall balance that needs to be struck in multi-stakeholder processes between high standards and participation of key players in an evolving industry;
Gains and successes, including the Netherlands' promising approach to managing supply logistics, special schemes to encourage participation of smallholders in RSPO, and a functioning complaints system and Dispute Settlement Facility; and
Suggestions for improvement, including stronger human rights standards, improved collaboration between smallholders to ensure they can become certified, introducing time-bound schedules for reporting and complaints resolution, and ensuring compliance with the RSPO Code of Conduct and Principles and Criteria.
Mr. Weber noted in closing that a new website (
betterpalmoil.org
) will be launched on 1 June 2013 to enable consumers to better understand the products they purchase. The full online debate is available at
www.rspodebate.com
 and additional questions can be sent to communications.eu (at) rspo.org.