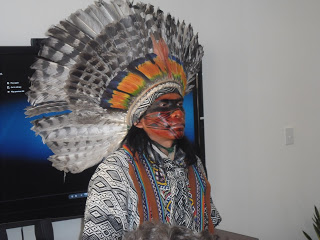 Filmmaker Nilson Tuwe Huni Kuin
On Monday, 20 May 2013 Johanna von Braun and Laureen Manuel of Natural Justice attended the screening of a documentary film produced by, Nilson Tuwe Huni Kuin, an Indigenous filmmaker. The screening of the film was a side event to the Twelfth Session of the
United Nations Permanent Forum on Indigenous Issues
(UNPFII), arranged by the UNDP's Equator Initiative in collaboration with the Tribal Link Foundation.
Mr Tuwe, the son of a traditional chief of the Huni Kuin peoples, is also a forest agent and indigenous youth leader from Acre, Brazil. As a recipient of a Tribal Link Foundation Fellowship, he came to New York to study English, film-making and editing with the purpose of raising awareness on the situation of indigenous peoples living in voluntary isolation in the Amazon.
In his film, Mr Tuwe highlights the challenges faced by his community and other isolated peoples, brought about by infrastructure projects such as the development of roads, and the prospection of timber, petroleum and gas. These projects drive the isolated peoples to migrate across the Peru border into Brazil and onto the land of the Huni Kuin peoples giving rise to not only the infringement of the Huni Kuin territory, but also the theft of their machetes, axes and pots, causing conflict between these Indigenous groups. The primary objective of the film is to advocate for and promote the rights of Indigenous communities at national and international levels, and to raise awareness of these challenges that they face. The film is still being edited and is therefore not published as yet.