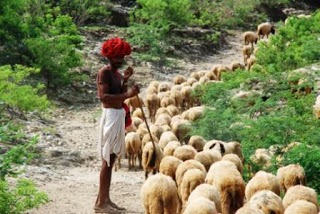 Kabir Bavikatte and Gino Cocchiaro (Natural Justice) will be participating in the 13th Biennial Conference of the International Association for the Study of the Commons (IASC) from January 10-14 in Hyderabad, India. The Conference provides a unique opportunity to resurface the discussion and debate on Commons and bring experience and evidence from across the world to show that Commons are not a relic of the past, but play a strategic role in maintaining ecological health, reducing poverty, and improving collective action.
By placing the Conference agenda in the ongoing discussions around conservation, local governance, social exclusion and human rights, agrarian distress and rural livelihoods, and by pitching it at the interface of policy, research and practice, the aim is to bring practitioners, scholars and decision makers to a common meeting ground so as to enrich the collective understanding on common property resources and identify areas and measures to inform policy and programmatic action as well as guide future research.
The Conference has attracted 700 participants from 69 countries with a large number panels and presentations. The Conference will open with a key note address by Elinor Ostrom titled 'Cooperation for the Common Good: Challenging Supposed Impossibilities and Panaceas'. In partnership with the League of Pastoral Peoples, Natural Justice will be organizing a pre-conference workshop on 'Biocultural Community Protocols as a Tool for Securing the Rights of Pastoralists and Livestock Keepers for In-Situ Conservation and Access to Common Property Resources'. During the Conference, Natural Justice will be hosting a panel on 'Traditional Knowledge and the Commons'. Kabir Bavikatte will also be chairing a panel on 'Store Houses of Genes: Whose Property?'.
Further information about the IASC 2011 can be accessed here.