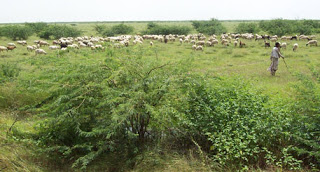 In the face of government attempts to ban livestock in their traditional grasslands, the Maldhari community of the Banni grasslands of Kutch, Gujarat, India sent notices to their state government demanding recognition of their rights over the grasslands on the first week of February. Fifteen of 19 village panchayats in the region joined in this action. The notices claim the Maldhari's are entitled to manage their own grasslands by the Forest Rights Act (FRA) of 2006, pointing to the fact that they have grazed their livestock in the area for centuries and were formally given the right to use the land for grazing by the leader of Kutch in the 19th century.
With about 100,000 livestock, many in the Maldhari community depend upon livestock to sustain their livelihoods. Sajheevan, an Indian NGO and partner of Natural Justice, estimates that livestock on the grasslands produce 110,000 litres of milk daily and that annually the livestock economy contributes one billion Indian rupees (about $20 million) to the region.
In 2009, the Maldharis drafted a biocultural community protocol (BCP) with support from Sajheevan and Natural Justice. The BCP documents the vital role played by the Maldharis in guarding their region's biodiversity and in co-evolving with/selectively breeding indigenous livestock ideally suited to the climate for at least 450 years. The Maldharis are also members of the Asia BCP Initiative.
Read more about the Maldhari's demands here. Download the Maldhari's BCP here.