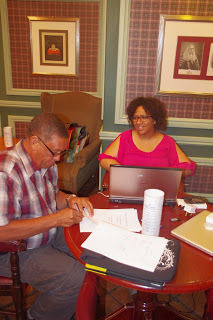 NKC Chairperson Cecil Le Fleur
signing the MoU
Natural Justice has established a ground-breaking relationship with South Africa's National Khoi-San Council (NKC), the government-convened body of representatives from Khoe and San communities of South Africa. Natural Justice's Lesle Jansen, Laureen Manuel and Johan Lorenzen presented Natural Justice's proposed partnership with the NKC, which the Open Society Initiative of Southern Africa (OSISA) has agreed to support, to the Council from 6-7 November, 2012, in Bloemfontein, South Africa. A memorandum of understanding committing both parties to the completion of the proposed activities was signed between Natural Justice and NKC on November 7, 2012.  
Natural Justice will support NKC to achieve three objectives through the partnership:
Support the Council in having meaningful consultations amongst Council communities, members and with government;
Engage in legal training for the NKC around the National Traditional Affairs Bill and its continued negotiations;
Consult with Khoe and San communities to draft a self-governance model based on the human rights issues set out in the UN Mission report recommendations of 2005.
The initial partnership is for 12 months but it is hoped that this will be the foundation of an enduring relationship.