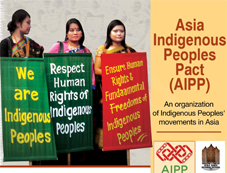 From 23 April to 2 May in Sabah, Malaysia, Holly Shrumm (Natural Justice) participated in a training program entitled "Indigenous Peoples, Human Rights and Advocacy in Asia-Pacific". It was organized by the Diplomacy Training Program (DTP), which is affiliated with the University of New South Wales Faculty of Law, and hosted by Asia Indigenous Peoples Pact (AIPP), Jaringan Orang Asal SeMalaysia (JOAS, the Indigenous Peoples Network of Malaysia), Partners of Community Organisations (PACOS Trust), and the Centre of Malaysian Indigenous Studies (CMIS) at the University of Malaya.
Through an engaging format of presentations, panel discussions, and role play activities, participants from 12 countries learned about a range of topics and practical tools to advocate for Indigenous peoples' rights from some of the leading practitioners in the region.
These included:
Jannie Lasimbang (Malaysian Human Rights Commission) on the United Nations Declaration on the Rights of Indigenous Peoples, national human rights institutions, and the Expert Mechanism on the Rights of Indigenous Peoples;
Dr. Ramy Bulan (CMIS) on the legal framework for Indigenous peoples' rights in Malaysia;
Dr. Sarah Pritchard on the international human rights system, including treaty bodies, specific human rights instruments, and special procedures;
Dr. Megan Davis (Director, Indigenous Law Centre, University of New South Wales) on her role as an Expert member of the United Nations Permanent Forum on Indigenous Issues (UNPFII);
Dr. Colin Nicholas (Centre for Orang Asli Concerns) on 'activism thresholds' as well as tools for proving Native Title;
Patrick Earle (Executive Director, DTP) on advocacy and campaigning strategies and techniques;
Christina Hill (Mining Advocacy Officer, Oxfam-Australia) on Indigenous peoples' right to free, prior and informed consent as well as the Organisation for Economic Cooperation and Development (OECD) Guidelines for Multinational Enterprises;
Virginia Dandan (UN Special Rapporteur on Human Rights and International Solidarity) on the right to development, economic, cultural and social rights and the Millennium Development Goals, and the meaning of solidarity;
Joshua Cooper (Hawai'i Institute for Human Rights) and Binota Moy Dhamai (AIPP) on the Universal Periodic Review;
Shree Kumar Maharjan (AIPP) on climate change and Reducing Emissions from Deforestation and Forest Degradation (REDD); and
Leonard Alaza (JOAS) on advocacy and the media.
Holly extends heartfelt appreciation to all of the participants, trainers, support staff, and the program's organizers, particularly Imelda Deinla (DTP) and Christina David (JOAS), for an extremely informative and inspiring 10 days.