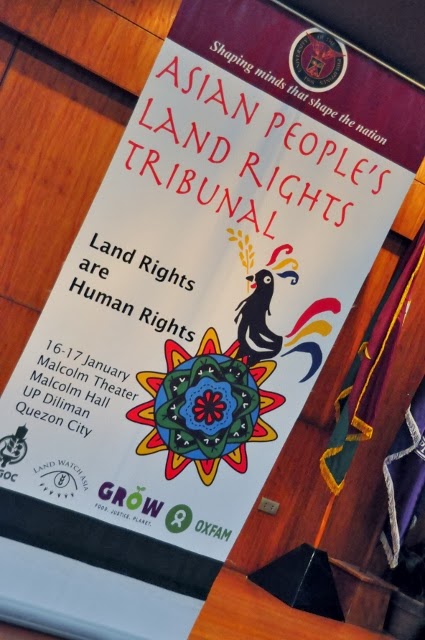 Private sector investments in large-scale, industrial agriculture have been increasing in Asia since the 2008 food crisis, often resulting in the conversion of small-scale and subsistence agriculture and forests into monoculture plantations and widespread violations of human and peoples' rights. To further explore these issues, Holly Jonas (Natural Justice) attended the
Asian People's Land Rights Tribunal
from 16-17 January at the University of the Philippines in Manila. The Tribunal included consideration of four cases by a panel of eminent experts from the Philippines, Indonesia, and Bangladesh and was hosted by the Asian NGO Coalition (
ANGOC
),
Land Watch Asia
Campaign, the
University of the Philippines
, the
Pimental Institute for Leadership and Governance
, and Oxfam's East Asia
GROW Campaign
.
The cases concerned issues with farmers, fisherfolk and Indigenous peoples being threatened and displaced by an industrial economic zone in Casiguran, Philippines; families having their subsistence farms destroyed to make way for large-scale sugar plantations in Koh Kong, Cambodia; Indigenous peoples being forcibly evicted from nearly 18,000 hectares of forested and small-scale agricultural land for oil palm plantations in Central Sulawesi, Indonesia; and Mamanwa Indigenous peoples opposing mining exploration in their ancestral domains in and around Lake Mainit, Agusan del Norte, Philippines. Together, these cases, presented by members of the affected communities and supporting non-governmental organisations, showcase an alarming situation of human rights and environmental violations in the three Southeast Asian countries, involving powerful local and foreign interests alike.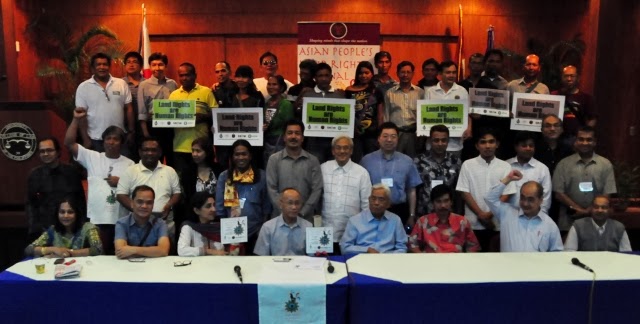 The Tribunal's panel of experts is currently drafting focused recommendations for each of the four communities to consider to augment ongoing advocacy efforts at the local, national, regional, international, and transnational levels. The panel also drafted a declaration that was provisionally adopted at the end of the Tribunal, and is preparing a more detailed report on their findings for submission to a forthcoming meeting of the Association of Southeast Asian Nations (ASEAN), with particular emphasis on recommendations to improve human rights and environmental considerations as ASEAN forges ahead towards
economic integration in 2015
. Links to the final declaration and report will be posted here when they are made available.