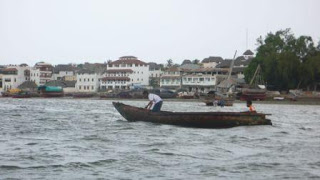 Johanna Von Braun and Gino Cocchiaro (Natural Justice) recently spent 3 days in Lamu, Kenya, with local community-based organization Lamu Environmental Protection and Conservation Group (LEPAC) and other stakeholders to discuss the potential development of a bio-cultural community protocol in response to the proposed construction of a deep sea port within the Lamu District. The 16 billion dollar development would include a deep sea port, railway, oil refinery, international airport, resort city, and major highway.
The Lamu District, which includes the Lamu Archipelago, is an incredibly diverse and rich area. The 6 indigenous communities of Lamu are reported to have been in this area for over 1,000 years and Lamu Town can be traced back to the early days of Islamic culture in the 7th century. The town and nearby islands are dotted with incredible archeological sites which have given rise to the town being declared a UNESCO World Heritage site. The communities of the District are dependant on fishing and farming for their livelihoods, with many continuing to practice traditional ways of life, including hunting and gathering. Lamu, which was declared a UNESCO Man and Biosphere Reserve in 1980, is also home to rare marine species such as sea turtles, sharks and dugongs, and also hosts two national reserves: the Kiunga Marine Reserve and Dodori National Reserve. The wider port area would cover all of these reserves.
Although the Kenyan Government heralds this venture as the answer to the economic woes of the area, the impact on the people of Lamu and its environment cannot be understated. Despite this obvious impact, little information concerning the port has actually been released to the people of Lamu and the only consultation between the Government and the residents of Lamu on the issue occurred early in 2009. Given that the proposed port appears likely to go ahead in the near future, the communities of Lamu wish to engage the Government in discussion on the matter and hope to develop and use a bio-cultural community protocol as one of the mechanisms to do so. Natural Justice will continue to consult with LEPAC and the other stakeholders of the Lamu community regarding the possible development of their community protocol.