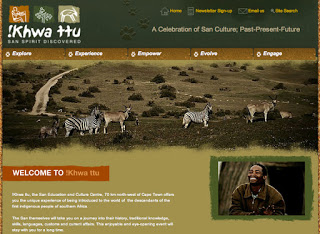 Natural Justice
partner 
!Khwa ttu
, the San Education and Cultural Centre, has won the inaugural Golden Shield Heritage Award in the Outstanding Community Project category awarded by the National Heritage Council (
NHC
), the South African government institution responsible for "the preservation of the country's heritage." The Outstanding Community Project category recognises exceptional achievement for NHC projects that contribute to changing lives in the communities it targets and contribute towards making communities aware of their heritage, contribute towards poverty alleviation, and empower communities with skills for self-sustenance.
!Khwa ttu is a training centre for San youth on heritage and skills and has a fully equipped conference centre and restaurant. Its work is based on the theme "A celebration of the San culture, present and past, for a better future". Its mission statement emphasises the restoration of the heritage of the San,  educating the general public about the world of the San, and providing training to the San in various areas.
Natural Justice is collaborating with !Khwa ttu in developing training workshops for San youth based at !Khwa ttu. The trainings will cover relevant national and international legal instruments such as the Convention on Biological Diversity, the United Nation's Declaration on the Rights of Indigenous Peoples and intellectual property law relevant to indigenous plants and associated traditional knowledge. It will include case studies on claiming traditional knowledge over Rooibos and Honeybush.