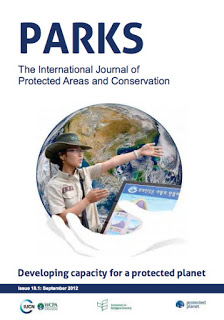 The International Union for Conservation of Nature (IUCN) has released the first edition of its re-launched PARKS: The International Journal of Protected Areas and Conservation. The journal includes contributions on a wide range of subjects important to protected areas and conservation including ocean protection, protecting indigenous grasslands in New Zealand, the impact of veterinary fencing in southern Africa, the linkages between human health and well-being and protected areas in Canada, and a discussion of motivations for hunting in Iran. The journal was co-edited by Sue Stolton and Nigel Dudley of IUCN's World Commission on Protected Areas (WCPA) and Equilibrium Research.
Two articles consider Target 11 of the Aichi Biodiversity Targets, which references "other effective area-based conservation measures", which can include Indigenous peoples' and local community conserved territories and areas (ICCAs). An editorial by Nik Lopoukhine, Chair of the IUCN WCPA, and Braulio Ferreira de Souza Dias, Executive Secretary of the Convention on Biological Diversity, seeks clarity on which "management approaches are, and are not, to be included within the land and water areas established under the auspices of the target." "Meeting Aichi Target 11: What Does Success Look Like for Protected Area Systems?" is authored by several  IUCN and United Nations Environment Programme staff and argues for "a holistic interpretation of Target 11 as a way for the global community to use protected areas to change the current unacceptable trends in global biodiversity loss."
The full journal can be downloaded here. Information on the journal and links to individual articles can be found here. Find IUCN on Facebook here and on Twitter at @IUCN.