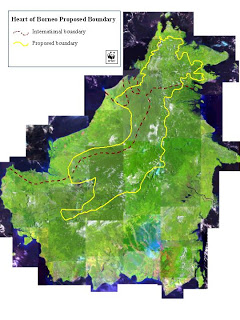 The proposed Heart of Borneo boundary
(in yellow). Courtesy of WWF-Malaysia.
The bulk of the rest of the conference consisted of breakout sessions (which included presentations and open discussions about next steps for Heart of Borneo) on the following five themes: forests and biodiversity; agriculture and plantations; infrastructure and energy development; community development; and tourism. When the groups presented their outcomes in plenary, a common thread throughout – bolstered by strong representation of Indigenous community members from across Sabah – was the need to recognise Native Customary Rights and land title and to ensure participation of Indigenous peoples and local communities in the Heart of Borneo design, implementation, and monitoring and evaluation process.