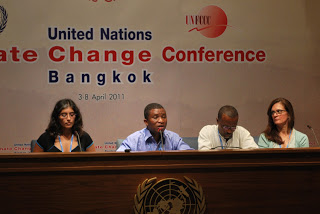 Saying that we are currently at an impasse, a press conference today hosted by the Pan-African Climate Justice Alliance (PACJA) blasted developed countries for failing to take action and make concrete commitments at the UNFCCC Ad Hoc Working Group negotiations in Bangkok.
Mithika Mwenda (PACJA) noted that poor communities in Africa, particularly women and children, are the most vulnerable and most impacted by climate change, even though they have contributed the least to global emissions. For a continent that depends largely on rain-fed agriculture, huge declines in food production and damage to coastal infrastructure are expected to have wide-ranging impacts. However, he also argued that we need a fair, equitable, and just deal not just to save Africa, but also to save humanity, as the impacts currently felt just by the most vulnerable will eventually be felt by the whole world.
Noting that mitigation is a key element of the Convention that must be addressed in these negotiations, Tete Omaku (African Trade Network) called for science-based emissions targets, particularly for countries who are historically responsible, and to use the trust built in Cancun to tackle the hard issues remaining to be addressed from the Bali Action Plan.
Acknowledging that the Kyoto Protocol is the only internationally legally binding treaty for emissions reductions for Annex I countries, Michelle Maynard (PACJA) stated that it is imperative that there are no gaps between the two Kyoto commitment periods. She noted that developed countries have historically contributed the most emissions, but are doing the least to mitigate and enable adaptation; instead, they are using offsets, which are often considered false solutions. She called for a global regime that is fair, equitable, and with adequate commitments based on historical responsibilities, capacities, and poverty reduction and sustainability priorities.
Rehana Dada (Timberwatch) is part of the South African civil society steering committee, which will soon be widened to include international NGOs in preparation of the civil society movement towards the UNFCCC 17th Conference of the Parties in Durban. Mwenda noted that "success" at the Bangkok meeting will depend on developed countries stepping up to their responsibilities and allowing for an inclusive COP17 agenda to be adopted in order to address outstanding issues from the Bali Action Plan and Cancun Agreement. Daily coverage of the negotiations is provided by IISD-Reporting Services.