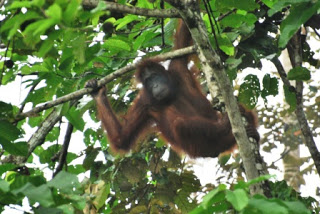 From December 4-7, Holly Shrumm (Natural Justice) joined the Global Diversity Foundation (GDF)-Sabah team on an exchange visit with Hutan, a French NGO that specializes in wildlife conservation in the Lower Kinabatangan region in Sabah, Malaysia. Both GDF-Sabah and Hutan employ strong teams of community researchers from the communities within or around which they work. Both NGOs also make a concerted effort to build constructive relationships with various state government departments, research institutions, other NGOs, and private stakeholders.
Since 1998, Hutan has focused largely on Kinabatangan Orang utan Conservation Project in collaboration with the Sabah Wildlife Department. Through this, they have established and sustained a variety of local research, management, restoration, education, and lobbying initiatives relating to many wildlife species such as orang utan, pygmy elephants, and Proboscis monkeys. They taught the GDF community researchers several techniques that they use in their work, including tree identification, orang utan and bird nest counting and monitoring, and transect walks. They also showed some of the local enterprise development initiatives such as registered homestays and eco-tourism projects, tree nurseries, and improved shrimp fishing traps. The wildlife and communities alike are heavily threatened by the intense social and ecological pressures of the logging and oil palm plantations that surround the Kinabatangan Wildlife Sanctuary, which was only gazetted in 2005.
The GDF team also discussed some of the research techniques they have used in Ulu Papar and Bundu Tuhan, including free listing, participatory video and photography, and participatory GPS and 3-D modelling. Many thanks to Datu Ahbam, Dr. Marc and the rest of the Hutan staff and community members of Sukau for their generous hospitality!