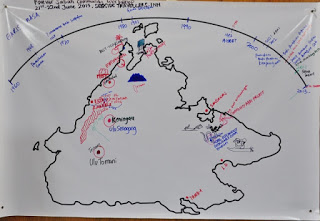 A selection of community conservation initiatives from
around Sabah and a timeline of key events.
From 21-22 June, Holly Shrumm (Natural Justice) joined a Forever Sabah workshop of community conservation leaders.
Forever Sabah
is a 25-year initiative that aims to build a fair, prosperous and sustainable Sabah (Malaysia) by pioneering the state's transition to a diversified green economy. It aims to change the development and economic trajectory of the State by rebalancing the economy from its historical over-reliance on and exploitation of natural habitats (particularly forests, rivers and seas).
The workshop focused on more than ten leading community conservation initiatives, including Native Forest Reserves, Community Use Zones (co-management with state protected areas), reforestation, eco-tourism, and natural resource-based enterprises. It used Open Space Technology to identify, explore, and brainstorm next steps on a range of key issues such as land, sustainable use of natural resources, economic opportunities, and leadership.