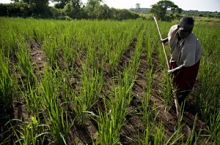 The Committee on World Food Security (CFS) endorsed the 'Voluntary Guidelines on the Responsible Governance of Tenure of Land, Fisheries and Forests in the Context of National Food Security' on 11 May.  The process of developing the guidelines was initiated by the Food and Agriculture Organisation (FAO) of the United Nations in 2009 and was finalised by CFS lead negotiations involving governments, civil society, the private sector, international organisations and academia. CFS chairperson Yaya Olaniran described the guidelines as "the product of a three year, inclusive process of consultations and negotiations that brought together many stakeholders and ensured that a wide range of voices were heard…The result is that we have a meaningful series of principles and practices that everybody — countries, the private sector, farmers, civil society — can stand behind and support, and that will work out in the real world."
The guidelines encourage increased recognition of informal tenure systems, ensuring tenure administrative systems are affordable and accessible, managing restitution for those illegally evicted from their lands in the past, ensuring the rights of indigenous communities, increasing transparency in agricultural investments, supporting effective and equitable dispute resolution around land tenure, and addressing increased urbanisation. Looking forward, implementation will depend upon governments which participated in the negotiations.
The guidelines can be downloaded here and an informal aid for reading the guidelines can be found here. FAO's press statement upon the adoption of the guidelines is here.