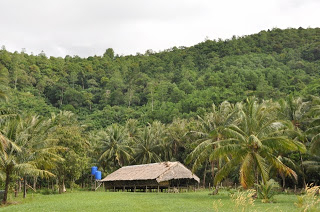 Harry Jonas and Holly Shrumm (Natural Justice) attended a symposium entitled "Sabah Native Land Rights: Issues, Challenges and the Way Forward". Chaired by Dr. Jacqueline Pugh-Kitingan (UMS Kadazandusun Chair), it was hosted by the Universiti Malaysia Sabah (UMS) School of Social Sciences from 30-31 January in Kota Kinabalu, Malaysia. The opening keynote was delivered by YAA Tan Sri Richard Malanjum (Chief Justice, High Court of Malaysia). Highlights of the paper presentations included:
Overview of Native Customary Land Laws in Malaysia (Dr. Ramy Bulan, Centre for Legal Pluralism and Indigenous Law, University of Malaya)
Governance of Customary Land and Natural Resources in Sabah (Datuk Osman Jamal, Director, Sabah Lands and Surveys Department)
Land Rights, Native Rights, and Human Rights (Tan Sri Simon Sipuan, Former Vice Chairman, Human Rights Commission of Malaysia)
Selection of Village Headmen in Sabah (Dr. Paul Porodong and Dr. Gaim Lunkapis, UMS)
As in many former British colonies, the legal landscape in Sabah consists of a mosaic of statutory, common, and customary law. Drawing on a burgeoning global jurisprudence in support of Indigenous peoples' rights, many presenters called for greater legal pluralism, effective reform of decades-old legislations, and a national tribunal to address violations and the backlog of an estimated 300 000 native title applications.