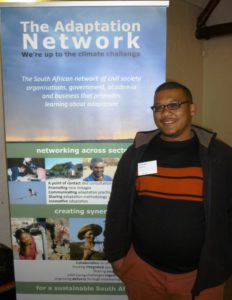 Dr. Cath Traynor (Natural Justice) and Community Researcher Mr Gerren De Wet (Indigenous Nama youth) attended the recent 2nd Southern African Adaptation Colloquium recently in Johannesburg, South Africa (which was hosted by GSRI, Wits University, ACDI and the Adaptation Network). A key theme of the conference was "knowledge co-production and learning", and we presented a reflection co-authored with Dr Laura Foster (Indiana University, Bloomington) regards conducting formal Participatory Action Research (PAR) with indigenous communities. We started with provocations, asking questions such as "who gets to produce scholarly knowledge?" and "who gets to benefit from such knowledge?" Through applying a critical approach to our own research processes, our findings suggest that those who get to produce scholarly knowledge are those that first, meet the criteria of funders, and second those who adhere to the normative standards of human subject research approaches and research ethics processes. In an attempt to counter more extractive research processes, we as researchers have co-developed community-researcher contracts with communities, these aim to outline expectations regards how knowledge shared by community participants will be used and also to ensure protection of their indigenous knowledge. Through examining our own research processes and the formal research structures we work within, we hope to develop practices of knowledge production that are more responsive to hierarchies of power and inequality.
During the colloquium, presenters and the participants shared ideas and approaches regards how social learning values and methodologies could contribute towards and improve climate change adaptation, in a variety of situations from cities, to rural communities, to engage different sectors such as youth, and how better to ensure co-design in adaptation projects. Funding sources for adaptation were discussed and government representatives presented their perspectives of the UNFCCC COP21 Paris Agreement, and how South Africa is responding with its adaptation strategy, mainstreaming of adaptation, and the development of monitoring and evaluation for adaptation. Trends in transformative adaptation were also debated and the colloquium finished with a session on how South Africa can better prepare professionals and researchers for knowledge co-production processes in climate change.
Natural Justice met with adaptation practitioners from the Environmental Monitoring Group and Indigo Development and Change to plan a Peer-to-Peer Learning Exchange between the Nama youth and the Nieuvoudtville community.