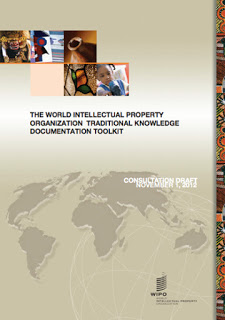 While a wide range of tools have been developed to protect Traditional Knowledge (TK) and Traditional Cultural Expressions (TCEs), the focus has primarily been on documentation. With emerging concerns that documentation has potential effects on the rights, cultures and livelihoods of indigenous peoples and local communities, partly through placing TK and TCEs in the 'public domain', the World Intellectual Property Organisation (WIPO) has produced a draft Traditional Knowledge Documentation Toolkit to address some of these concerns. WIPO is seeking input on the draft towards a final publication.
The Toolkit seeks to offer practical guidance on how to undertake a TK documentation exercise as a process and how to address critical intellectual property-related issues and questions as they surface during this effort. The Toolkit primarily focuses on TK but much may also apply to TCEs. The Toolkit does not promote documentation or suggest any one approach to intellectual property management, but rather offers a menu of alternatives to be taken into account in documentation projects and efforts.
A summary of the consultation draft of the Toolkit can found here, and the Toolkit can be downloaded in English here (drafts in Spanish and French are being prepared). Comments and suggestions should be sent to grtkf@wipo.int.